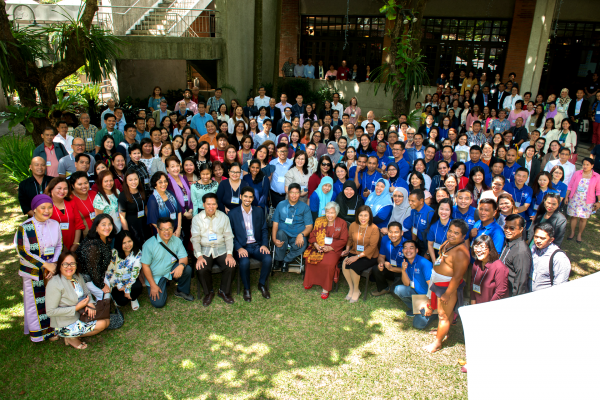 International Conference identifies top priorities for an inclusive education
From 6 to 8 March 2018, SEAMEO INNOTECH had its 15th International Conference focused on the theme: "Thriving in the Margins: Inclusive Education Re-imagined." The conference, which gathered more than 200 participants representing 16 countries around the globe, have identified five priority areas for a more thriving learning community.
"All children should be given the opportunity to make a choice. And Education is about giving our learners, our children, the opportunity to make a choice." Sec. Leonor Magtolis Briones, Secretary of the Philippine Department of Education, said in her opening message.
Using the power of stories and modified Open Space Technology (OST), groups of learners, people with disabilities, indigenous people (IP), teachers, school heads, government employees, and other stakeholders in the education landscape collaborated to come up with the following priority areas: (1) Inclusive Education for IPs; (2) Building an inclusive culture at the different levels of governance; (3) Revolutionizing education system for inclusion; (4) Engaging stakeholders in inclusive education; and (5) Delivering learning opportunities to diverse early learners.
Throughout the 3-day conference, participants had the chance to listen to 9 compelling stories of people who were once in the margins. These stories on inclusive education served as triggers for the participants to develop their own agendas and conduct their own sessions to answer the big question: "How do we grow a learning community that welcomes everyone?"
(Read the stories and session reports through the Conference Proceedings)
"Inclusive Education is not just welcoming all learners. It's also recognizing that there are other ways to learn." Ms. Laraine "Ayen" Dela Torre from TULA Philippines emphasized in her story weaving session.
The three days were filled with inspiring stories and meaningful concurrent discussions that led to the priority areas. A total of 82 sessions, with conversation topics varying from community education, to formal schools, and to policies and governance, were organized and convened by the participants themselves during the learning conversation time slots. Individual action agendas were also posted by the participants as a sign of their commitment for an inclusive learning community. All these were weaved and synthesized together by the conference story weavers Ms. Thea Soriano of Asia South Pacific Association for Basic and Adult Education (ASPBAE), Ms. Ayen dela Torre of TULA Philippines, and Mr. Ed dela Torre.
SEAMEO INNOTECH's International Conference happens every two to three years in response to the emerging education needs of the region. The conference serves as a platform for education stakeholders to discuss education concerns and collaborate for possible solutions. This year's conference is one of the many programs and initiatives undertaken by the Center to modestly contribute to the achievement of Sustainable Development Goal (SDG) 4 on Inclusive Quality Education and the SEAMEO Priority Area 2 on addressing barriers to inclusion and access to basic learning opportunities through innovations in education delivery and management.
Take a look back on the conference happenings through this video highlight.