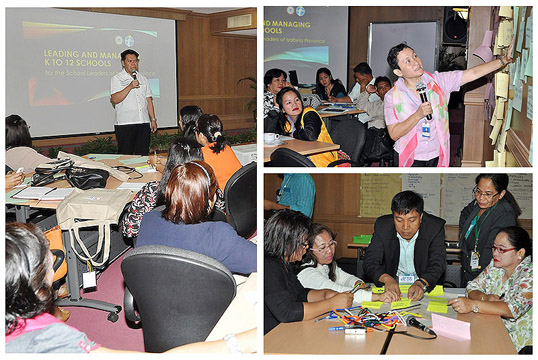 Leading and Managing K to 12 Schools in the Division of Isabela
School heads from the Department of Education Division of Isabela in Region 2 underwent an intensive training program from 11 to 15 November 2013 to strengthen their competencies in leading and managing schools under the K to 12 basic education program.
Facilitated by SEAMEO INNOTECH, the training program was designed to engage the school heads in a reflective practice to enhance their leadership and instructional coaching skills. Specifically, the program provided an opportunity to internalize changing leadership roles in current school context and realities. It also engaged the school heads in activities that further strengthened their competencies in leading instructional and curricular enhancements, engaging the school-community, and resource mobilization.
By taking account of their leadership capitals and assessing their own areas for development, among others, the school heads were able to identify key action steps to make them better prepared to implement the K to 12 program. Learning and insights gained from the training program were used to enable them to enhance their respective school improvement plans.