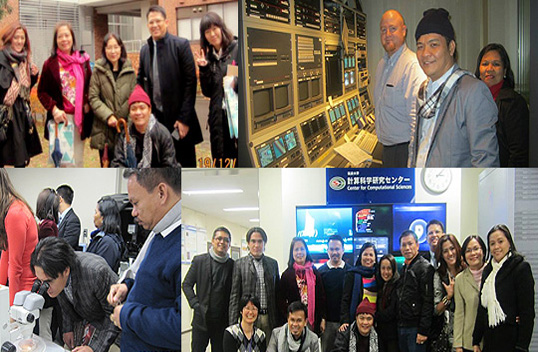 Learning Program in Japan for Cebu Normal University officials
The Center facilitated from 18 to 21 December 2013 a learning program in Japan for the faculty of Cebu Normal University – College of Arts and Sciences. The program covered a number of institutional visits that included the Japan Science and Technology Agency (JST), the Tokyo Development Learning Center (TDLC), the Center for Research on International Cooperation in Educational Development (CRICED), the University of Tsukuba, and the National Institute of Advanced Industrial Science and Technology (AIST).
At the Japan Science and Technology Agency, the CNU participants learned about its research programs and projects that (1) promote sustainable development; (2) raise the standards of science and technology; (3) promote collaborative research in the sciences; and (4) enhance human resource development.
At the Tokyo Development Learning Center, they had a glimpse of how technology can be used in the teaching and promotion of the sciences. The TDLC is a partnership project between Japan and the World Bank that utilizes ICT and distance learning methods to contribute to global development.
Meanwhile, at CRICED, which is an expert on pedagogical approaches, they learned about "globalization and trends in higher education." On the other hand, at the University of Tsukuba, the group not only learned about its various projects, but also had the chance to tour the facilities of its two main centers—the Center for Computational Sciences (which created one of the world's fastest supercomputers called "K") and the Life Science Center of the Tsukuba Advanced Research Alliance.
Similarly, the group visited the National Advanced Industrial Science and Technology where they gained insights on science researches, as well as opportunity for collaborative research. Likewise, they had the chance to visit the Tsukuba Science Square and the Geological Museum, which are both managed by the AIST.
The group also did not pass up the chance to see the exhibits on Japan's aerospace explorations at the Japan Aerospace Exploration Agency inside the Tsukuba Space Center.
SEAMEO INNOTECH facilitated the learning program for CNU as part of an existing Memorandum of Understanding to cooperate on various projects and activities mutually beneficial for the institutions. The Center is scheduled to facilitate another learning program with an offshore component for CNU officials at the end of the month. The focus of the learning program cum study visit is on "internalization and research program management."