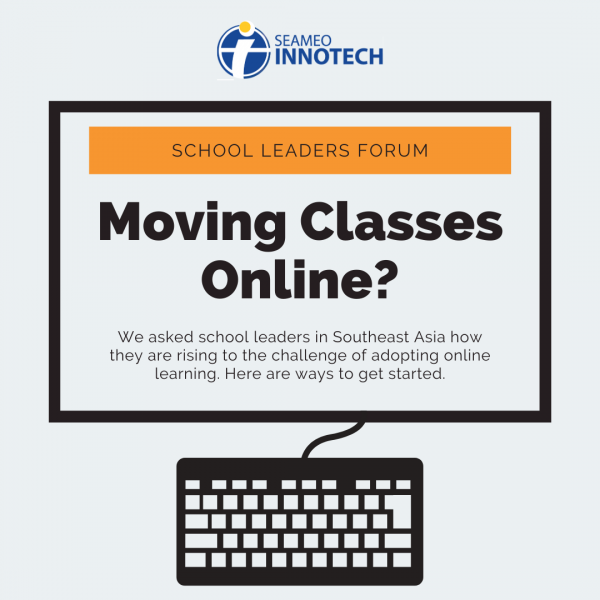 Moving classes online?
As we respond to the current threats of the corona virus disease (COVID-19), more schools have switched to online classes and distance learning. Getting started is quite difficult, especially when you are unfamiliar with the setup. Here are some tips from school leaders across Southeast Asia on starting your online classes.
1. Gather your teachers
Agree on your go-to app for communicating essential information. The idea is to get everyone on the same page and able to work together online.
2. Craft a plan
Set school-level, time-bound targets to ensure that learning will continue; assess your school environment, identify needs and discuss how your school will respond to each of them.
3. Tap your tech team
Gather your IT support or tech-savvy teachers to help you and your teaching staff upload your materials online, and get the right tools and apps for learning delivery.
4. Design work plans
Let teachers design their own work plans; find solutions to learning needs by curating learning materials or holding classes online via screenshare or video chat.
5. Collaborate
Encourage teachers to talk to each other, work together in developing learning materials for their students and learn from each other by sharing how their plans played out.
6. Look for the right tools
Look for open source, free apps that you and your students can use to organize your classroom content and deliver learning online. For starters, check out Facebook Social Learning Units and Google Clasrroom.
7. Partner with parents
Create a group chat with parents for faster and efficient feedback loop; work with them in ensuring that students have meaningful learning activities at home.
8. Test the plan and evaluate
Roll out your plan for a week or two, and evaluate as a team what went well and what can be improved.
Do you have more tips to share? Share your practices with us!