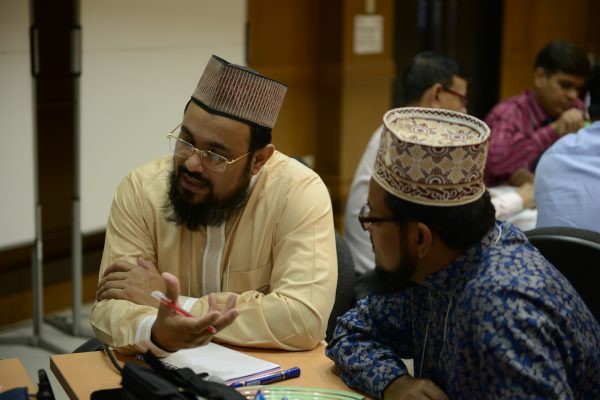 New batches of Bangladeshi Head Teachers and Madrasah Superintendents train on ICT Integration
The second and third batches of Bangladeshi Head Teachers and Madrasah Superintendents were trained simultaneously through a SEAMEO INNOTECH program on integrating Information and Communications Technology (ICT) in school management. The week-long program held from 3 to 10 April 2018 enabled the participants to deepen their understanding of the current education landscape, as well as understand why there is a need to integrate ICT in schools.
(Related article: SEAMEO INNOTECH trains head teachers and Madrasah superintendents on ICT integration)
Through the program, the 47 Head Teachers and Madrasah Superintendents were introduced to the education reforms in the Philippines and Bangladesh. They also had the chance to discuss the role of ICT in facilitating teacher development and in the teaching-learning process in the classroom. The joint sessions of the second and third batches allowed the participants to collaborate and discuss action points relevant to ICT integration in their respective schools. These action points will be put together, along with the action points of those from the previous batch, to compose the School-Based Acceptable Use Policy (AUP)—a guideline governing the use of internet to support teaching and learning, as well as management and maintenance of ICT Centers.
Aside from the discussions and collaborative activities, the participants also had the chance to visit two local secondary schools, Valenzuela National High School and Polo National High School. Through these school visits, participants were able to observe the schools integrated ICT in the classroom and in school management, which proved to be useful in finalizing their School-Based AUP.
Strengthening the Capacity of Head Teachers and Madrasah Superintendents on ICT Integration in School Management was organized in line with the Bangladesh Ministry of Education's National Education Policy (NEP) Framework. The NEP framework aims to have a holistic and balanced development of the education sector through the improvements on teacher quality, school leadership, resource mobilization, and monitoring of key learning outcomes. Through the Ministry's Secondary Education Sector Investment Program (SESIP), SEAMEO INNOTECH was engaged to facilitate the said program.