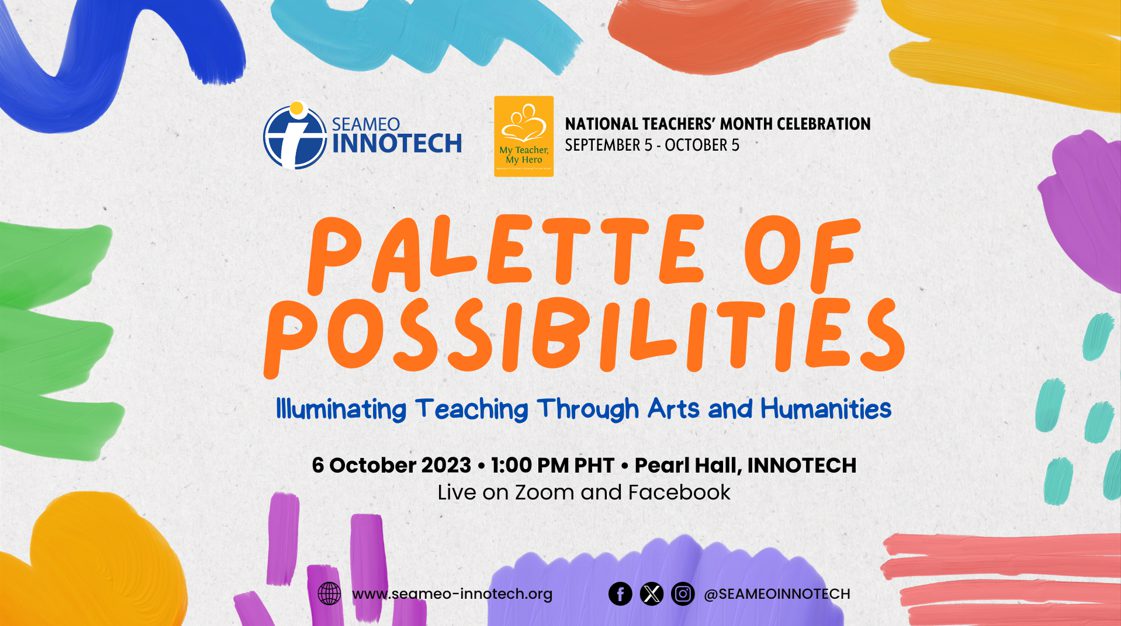 Innotech Launches Celebration for National Teachers' Month 2023
This year, INNOTECH celebrated National Teachers' Month with a special event, aiming to cultivate a renewed sense of enthusiasm and passion among teachers for incorporating arts and humanities in enhancing the student's learning experience. Titled "Palette of Possibilities: Illuminating Teaching through Arts and Humanities," the event took place on October 6, 2023, at SEAMEO INNOTECH's Pearl Hall in Quezon City. It was a blended program, welcoming around 100 in-person educators and over 400 online participants from various parts of the Philippines. Online attendees joined via Zoom, and the public had the opportunity to catch a glimpse through a live stream on the Center's official Facebook page. 
The event began with a warm welcome from SEAMEO INNOTECH Center Director, Prof. Leonor Magtolis Briones. She expressed her heartfelt appreciation for the dedicated teachers, acknowledging their invaluable contributions and sacrifices in guiding the future generations. "You illuminate the path for our future generations," Prof. Briones emphasized during her opening speech. She also highlighted the significant role teachers play in shaping successful professionals, emphasizing the importance of their hard work and sacrifices in students' education and development.  
Mr. Aniceto Sobrepeña, the chair of the National Teachers' Month Coordinating Council (NTMCC), joined Prof. Briones in extending a warm welcome to the event's guests. Additionally, the attendees were treated to insightful talks from esteemed speakers: Dr. Milagros Lagrosa of SIGLA (School in the Garden of the Living Archetypes), Mr. Rey Bufi of the Storytelling Project, and Prof. Ruben David Defeo from the College of Fine Arts at the University of the Philippines Diliman. These speakers shared their expertise, enriching the educators' knowledge and providing inspiration for their teaching practices. 
Following the plenary session, the in-person participants were divided into three workshops, each led by resource speakers. Zoom participants joined Mr. Rey Bufi's workshop on storytelling, while the livestream audience had the opportunity to watch the complete documentary series titled "The Changemakers."  
This celebration not only recognized the hard work of teachers but also provided a platform for learning and inspiration. By exploring the diverse facets of arts and humanities, educators were empowered to enrich the learning journey of their students, fostering a brighter future for the upcoming generations. 
The Philippine Department of Education (DepEd) celebrates National Teachers' Day on Oct. 5, and National Teachers' Month from Sept. 5 to Oct. 5. The Republic Act 10743 supports these events as well. The National Teacher's Month Coordinating Council (NTMCC), the organization responsible for organizing these celebrations, adopted the theme Together4Teachers. The theme uses the 4As of Gratitude Framework, which are the following: Appreciation, Admiration, Approval, and Attention.