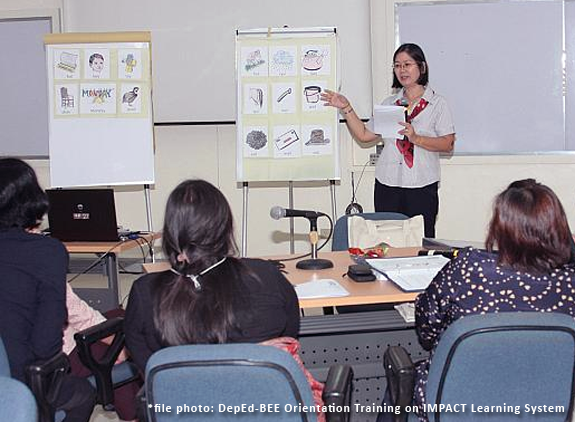 Schools Division in Cagayan de Oro City turns to alternative delivery modes of education
The Department of Education – Division of Cagayan de Oro City has partnered with SEAMEO INNOTECH for the conduct of a five-day orientation-workshop on two alternative delivery modes (ADM) of basic education. Expected to benefit from this activity are teachers and staff members in the schools division currently implementing the two ADMs—Instructional Management by Parents, Community and Teachers (IMPACT) Learning System, and the Modified In-School/Off-School Approach (MISOSA).
Widely accepted as an effective means to address issues of dropping out and improving access to education, alternative delivery modes of education like IMPACT and MISOSA are among those that the Philippine Department of Education is promoting for wider implementation in public schools nationwide.
The orientation cum workshop, scheduled from 17 to 21 June 2014, provides participants with a general overview of implementing the two ADMs; the different modes of instructional delivery and learning principles; the roles of school heads, teachers, and learners; and the challenges and benefits of implementing such learning systems.
The activity also features demonstration lessons led by the training team from SEAMEO INNOTECH for better insight on how IMPACT classes are held and how lessons are delivered. Aside from this, participants themselves are expected to simulate an IMPACT class where they will train programmed teachers and peer group leaders in delivering IMPACT lessons for Levels 1 to 6.
This project is part of SEAMEO INNOTECH's commitment to the Philippine Department of Education to assist in the mainstreaming of ADMs in schools throughout the country.