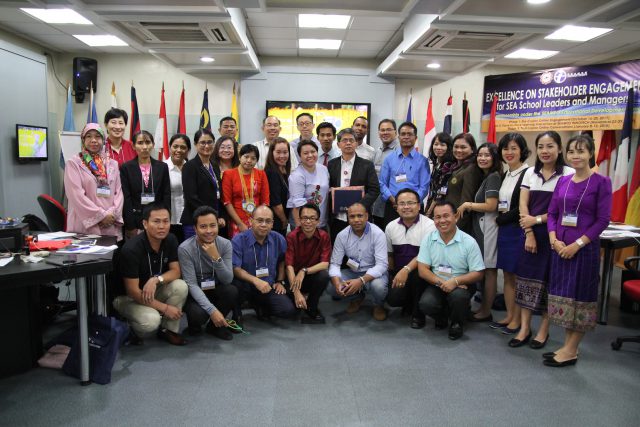 SEA school leaders train on Stakeholder Engagement
Thirty two education leaders representing the 11 SEAMEO member countries spent a week at SEAMEO INNOTECH to enhance their capacities on stakeholder engagement as school leaders. The program under the SEAMEO Educational Development Fund (SEDF) was held from 22 to 29 November 2017 in Quezon City, Philippines.
Excellence in Stakeholder Engagement for Southeast Asian School Leaders aims to strengthen the leadership and management capacities of education leaders in promoting shared responsibility among their partners and networks to bring their schools to a new level of excellence. With the rapid changes in the education landscape, the need for collaboration and engagement among those who have a stake in education—community, business, civil society, government, religious sector, etc.—have always been emphasized. School leaders are now expected to have the capacity to face different stakeholders and maintain a good relationship with them. Engagement and collaboration becomes the driving force that enables school leaders to bring meaningful progress to their schools and communities.
This week-long face-to-face interaction is the Phase 2 of the said program. It builds on the initial discussions held during the program's Phase 1, an online interaction held last October. Through Phase 2, participants were able to share their school's situation and experiences thru presentations and interactive dialogues with the other participants. Phase 2 also tackled about the changing context of school and education, promoting shared responsibility for school improvement, managing education alliances and networks, and sustaining collaborative relationships with stakeholders. Participants also had the chance to see these concepts in action through an educational tour and a school visit.
At the end of the week-long training, the participants developed their own school's action strategy. This plan will be further discussed during the Phase 3 of the program, another online conversation among the participants, to be held in January 2018.
This year's SEDF program focused on the competency strand Stakeholder Engagement, one of the identified five major priority competencies of the 2014 Competency Framework for Southeast Asian School Heads. The program is participated by school leaders and Education Ministry officials around the region.