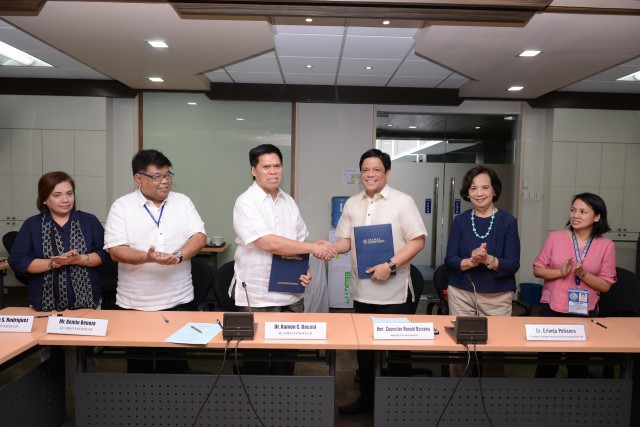 08 Mar

SEAMEO INNOTECH and AiTECH sign MOU

On 28 February, SEAMEO INNOTECH and the Antipolo Institute of Technology (AiTECH) signed a Memorandum of Understanding (MOU) to strengthen collaboration in sharing solutions, knowledge and services between the institutions. On the part of SEAMEO INNOTECH, it is the first MOU established with a Local Government Unit.

The MOU was signed by Hon. Ronald R. Barcena, City Councilor District 1, Antipolo City; Dr. Ramon C. Bacani, Center Director, SEAMEO INNOTECH; and Dr. Erlinda C. Pefianco, President, AiTECH. Also present as witnesses in the MOU signing were Mr. Benito Benoza, Knowledge Management and Networking Office Manager, and Ms. Carolyn Rodriguez, Quality and Systems Management Office Manager, of SEAMEO INNOTECH; Ms. Rowena Zapanta, of the City Planning and Development Office-City of Antipolo; Atty. Marivic Furuelo, Acting AiTECH Board Sectary; and Atty. Eduardo Torres of AiTECH.

Dr. Ramon C. Bacani expressed hopes for an even more vibrant cooperation between INNOTECH and AiTECH, having noted that cooperative activities have been initiated ahead of signing a formal document.

Dr. Erlinda C. Pefianco, former SEAMEO INNOTECH Center Director and the current President of AiTECH, pointed out that significant actions and development initiatives happen at the local level, thus making a case for down-up planning as advocated by the Center.

Antipolo City Councilor, Hon. Ronald Barcena, underlined that in the local government setting, networking and adopting an open door policy are key to developing productive partnerships and alliances. AiTECH's primary mission is to contribute to nation-building by developing a new breed of professionals who are able to blend knowledge, skills, attitudes and values for construction engineering.

The emerging partnership is in line with the INNOTECH vision of ensuring a better life for every learner in Southeast Asia and beyond.