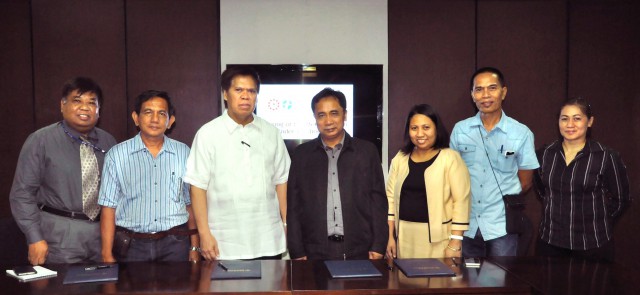 SEAMEO INNOTECH and TAU seals partnership
On 2 December 2016, SEAMEO INNOTECH signed a memorandum of understanding with Tarlac Agricultural University (TAU), a state university providing professional, technical and instruction for special purposes and promote research extension services and progressive leadership in agriculture and agricultural education, home technology and other related fields.
The partnership includes sharing of knowledge resources, relevant information, research outputs, and best practices, as well as technical cooperation and joint research. The partnership also includes provision for on-the-job trainings and capability enhancement of education workers and other key developmental concerns.
The memorandum of understanding (MOU) was signed by Dr. Max P. Guillermo, President of TAU, and Dr. Ramon C. Bacani, Director of SEAMEO INNOTECH. Also present as witnesses in the MOU signing were Ms. Christine N. Ferrer, Director of External Linkages and International Affairs of TAU, and Mr. Benito Benoza, Manager of Knowledge Management and Networking Office of SEAMEO INNOTECH.
Through this partnership, the two institutions recognize the value of strategic linkages as a means to fulfill programmatic goals and broaden the scope and reach of each institution's services to the region's educational community.