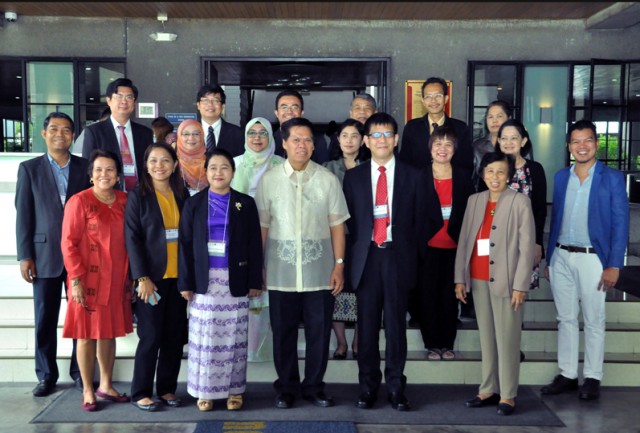 SEAMEO INNOTECH conducts 1st regional forum on teacher education frameworks and reform
On 16-18 May 2016, SEAMEO INNOTECH conducted the first regional forum on teacher education frameworks and reforms in Southeast Asia (SEA). Representatives from teacher education institutions, professional regulation offices, and ministry of education joined the said forum to share their expertise and experiences in teacher education. Fourteen participants were there to represent the seven SEAMEO member countries.
The forum was conducted to gather and validate data regarding the current status and frameworks of teacher education system in SEA. Through the country presentations and workshops conducted in the 3-day forum, the participants were able to identify common success factors and challenges of teacher education in the region. They were also able to identify areas of new possibilities and suggest possible future collaboration and cooperation.
Among the identified new possibilities, the group decided on priority areas. These would be: (a) Upgrading existing teacher education curriculum depending on the needs of the country; (b) Setting up mechanisms to retain quality teachers in the system; (c) Establishing a research network among researchers and teachers; (d) Conducting a fora among researchers and teachers to share their best practices and experiences; (e) Reviewing and mapping out teacher qualification framework, anchored on the ASEAN Qualifications Standards Framework; (f) Selecting and awarding the best teachers from each SEA country; and (g) Identifying comparable common minimum teaching competency and performance standards among SEA countries.
Dr. Hiromichi Katayama from UNESCO's International Teacher Task Force Secretariat also joined the conference and shared valuable information for the development of the SEA teacher education framework. Representatives from SEAMEO Secretariat and SEAMEO College were also there to guide the participants and providing important inputs.
With the continuous mention of a teacher network throughout the forum, INNOTECH developed a Moodle site to serve as an initial platform for the teacher education network. The forum also served as a consultative meeting on the proposed network.
The 1st Regional Forum on Teacher Education Frameworks and Reforms in Southeast Asia and Consultative Meeting on the Proposed Regional Teacher Education Network was held in line with SEAMEO INNOTECH's commitment to the Research 4 (Research on Teacher Education Frameworks and Establishing Teacher Education Network in Southeast Asia) of SEAMEO College. This is just one of the six researches conducted by SEAMEO College to address the seven priorities of SEAMEO, identified and agreed upon by the Ministers of Education through the first Strategic Dialogue for Education Ministers (SDEM) in 2014.
The forum was made possible with the help of SEAMEO Secretariat, SEAMEO College, Asian Development Bank, Japan Fund for Poverty Reduction, and SEAMEO QITEP in Mathematics.