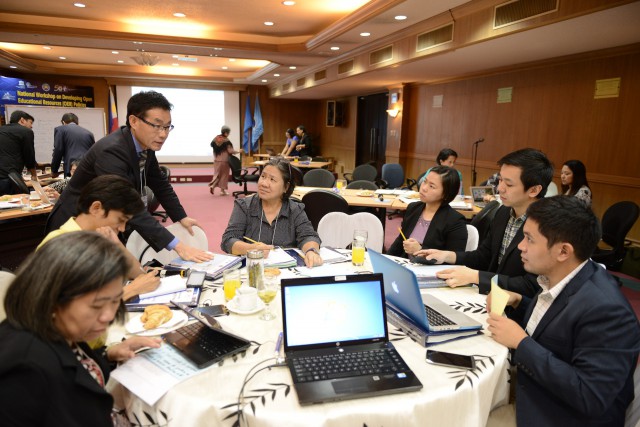 SEAMEO INNOTECH conducts OER policy forum
SEAMEO INNOTECH, in partnership with UNESCO Paris, Commission on Higher Education (CHED), and UNESCO Southeast Asia Center of Lifelong Learning for Sustainable Development (SEACLLSD), facilitated an Open Educational Resources (OER) Policy Forum on 23-24 September 2015. The two-day forum, held at the SEAMEO INNOTECH, was participated by representatives from UNESCO, CHED, Department of Education, UNESCO Paris, and SEAMEO INNOTECH. The primary objective of the meeting is to draft a policy reform that would support and promote the use of OERs.
Open Educational Resources (OER) is defined by UNESCO as "teaching, learning, and research materials in any medium, digital, or otherwise, that reside in the public domain or have been released under an open license that permits no-cost access, use, adaptation and redistribution by others with no or limited restrictions."
OER is seen as a vital resource in today's education trends. Through OER, students and teachers in formal and non-formal schools can have better access to educational resources. In 2012, a Paris OER declaration has been signed, ensuring that educational materials developed with public funds be made available under open licenses.
"Let's strive to make OER widely available and accessible to achieve inclusive growth," said Dr. Ramon C. Bacani, SEAMEO INNOTECH Center Director, in his welcoming remarks.
This forum is part of UNESCO OER Policy Project which supports the OER policy development cycles in selected countries. This aimed to raise awareness of and harness the potentials of OER in advancing education, facilitate understanding of essential knowledge on OER, build capacity of policymakers in developing sector-wide OER policies, and develop the first draft of OER policies in the Philippines.
Digital licensing, OER initiatives of the different agencies, and quality of the online materials were some of the issues raised during the sessions. Examples of other countries' good practice were also discussed.
At the end of the two-day forum, the participants agreed to draft an OER policy and master plan which will be included in a memorandum to be signed by the heads of their respective agencies. They hoped that this memorandum will progress into a national law.