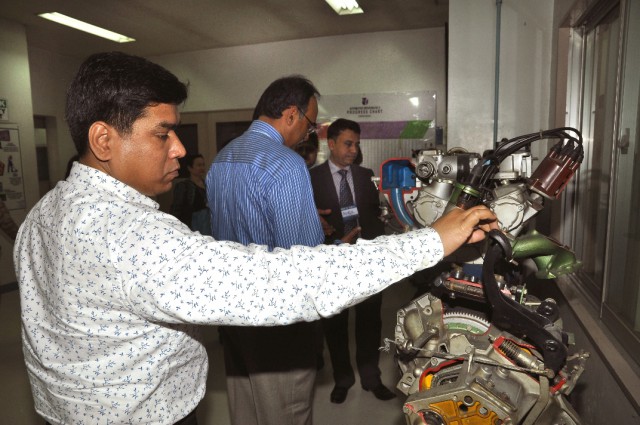 SEAMEO INNOTECH facilitates study visit for Bangladeshi officials
The Skills Employment Investment Program (SEIP) officials under the Ministry of Finance, Bangladesh engaged the service of SEAMEO INNOTECH to facilitate a study visit in the Philippines, 15-17 February 2017. This study visit aims to provide better understanding of the Philippines' technical and vocational education programs.
In the past four decades, Bangladesh has experienced a rapid increase of young population and labor force participation. However, this population is said to have inadequate skills. The country had identified 'skills development' as one of the strategies to address this situation. This leads to the issuance of the National Skill Development Policy (NSDP) where SEIP is one of its major programs. To further improve the said program, the officials of SEIP find the need to benchmark from neighboring countries—one of which is the Philippines.
Throughout this 3-day visit, the nine (9) SEIP officials were introduced to the Philippines' Technical Education Skills Development Authority (TESDA)—the government agency tasked to manage and supervise technical education and skills development. They were introduced to TESDA's mandate and direction, as well as to its program innovations on competency-based skills development, assessment, and certification. This has helped the officials identify the best practices in building partnerships with the business and industry sector, as well as in addressing the job-skill mismatch. Aside from TESDA's programs, the officials were also oriented on the Senior High School program of the Department of Education.
The study visit ends with a tour to the Don Bosco Technical Institute, a private Catholic educational institution accredited by TESDA that offers technical and vocational education and training program. They were able to observe its TVET programs and facilities, as well as interact with the school officials.
The Skills Employment Investment Program (SEIP) of Bangladesh is co-funded by the Asian Development Bank and the Swiss Agency for Development and Cooperation. This supports the high growth priority sector of the country. SEIP also establish partnerships with training authorities of various countries.