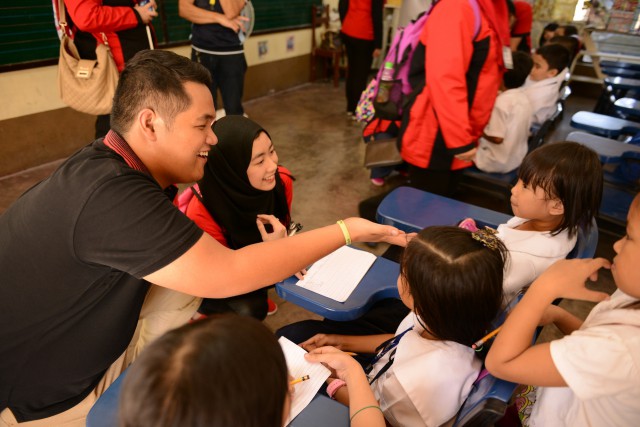 SEAMEO INNOTECH facilitates study visit for Bruneian school leaders
On 30 March, SEAMEO INNOTECH facilitated a one-day study visit on school-community partnership for school success for selected school leaders from Brunei. The study visit highlighted the good practices of Philippine schools, such as Muntinlupa National High School and Leodegario Victorino Elementary School, in engaging different stakeholders for better learning outcomes. The study visit program included an orientation on the Philippine education system, learning sessions, and a visit to Leodegario Victorino Elementary School.
The participants were briefed by Dr. Ramon C. Bacani, Center Director, and Dr. Sharon B. Chao, Learning Management Office Manager, on SEAMEO INNOTECH and the Philippine education system. Afterwards, a learning session on leading school-community partnership for improving student learning was held, facilitated by Dr. Florante C. Marmeto, Principal IV of Muntinlupa National High School. Through the learning session, Dr. Marmeto was able to share the strategies he used to improve opportunities for learning, as well as the results of these initiatives.
The visit in Leodegario Victorino Elementary School included another learning session. This learning session, facilitated by Mr. Regino Pagtama Jr., Principal II of Leodegario Victorino Elementary School, focused on creating school-community partnership for school success. Mr. Pagtama shared how they have personified resiliency and their passion for continuous improvement to make sure that their students would attain their full potential.
After the school visit, the participants were engaged in an informal discussion with the Center's Learning and Training Development Unit, facilitated by Ms. Edith Pimentel, Senior Specialist, and Ms. Ana Liza Serrana, Specialist.
 This school visit is part of the series of learning exchanges conducted by SEAMEO INNOTECH in partnership with Brunei's Department of Schools.