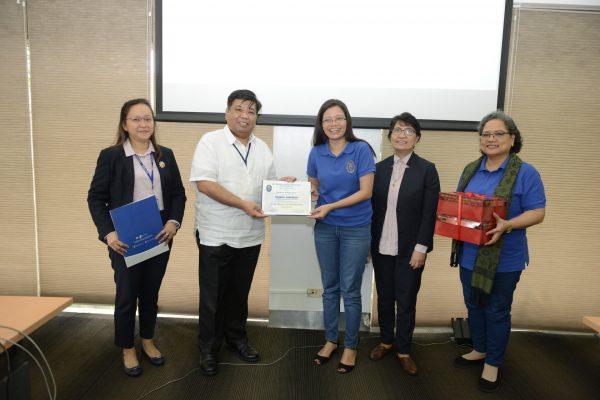 SEAMEO INNOTECH facilitates study visit of St. Theresa's College of QC
Eleven faculty members of Junior and Senior High School of St. Theresa's College of Quezon City visited SEAMEO INNOTECH on 1 August 2018 for a study visit. The Center introduced its research and innovation projects, discussed latest trends in educational research, and walked the participants through the research process of SEAMEO INNOTECH. 
In their continuous effort to further enhance the school's curriculum and instruction, St. Theresa's College of Quezon City, a PAASCU Accredited School, conducts institutional visits to research centers in the country—one of which is SEAMEO INNOTECH. 
SEAMEO INNOTECH shared stories of how its research study develop, from conceptualization up to dissemination. Dr. Sherlyn Almonte-Acosta, Senior Specialist and Head of the Educational Research Unit, emphasized that the research studies of SEAMEO INNOTECH are greatly focused on addressing specific issues in the education field; aside from contributing to the body of knowledge, it hopes to provide solutions, enhancements and innovations that address existing and anticipated needs of teachers and learners in the region. Ms. Yolanda De Las Alas, Senior Specialist and Head of the Center's Educational Innovation Unit added that they also look into the innovations of different Southeast Asian countries and contextualize good practices to fit into the situation of a country.  
The participants were also introduced to some of the recently published as well as on-going research projects of the Center, which are categorized around the themes: educational reforms, inclusive quality education, education for sustainable development, technology-enabled educational innovations, and educational solutions supportive of regional integration. Trends such as mobile technology, education in emergencies, digital citizenship, inclusive education, and ASEAN integration were also shared. SEAMEO INNOTECH research projects revolve around these themes and trends. 
During the open discussion, some issues and concerns were raised by the participants such as: 1) How research policy recommendations get approved, 2) Is the Center open with the on the job immersion for senior high school students, 3) What are ethics standards in research, 4) Where can one go after doing research, and 5) What makes one to stay as a researcher.

(Check out some of SEAMEO INNOTECH's completed and on-going projects) 
With its aim to provide better future for every learner in Southeast Asia, the research works of the Center are usually used as inputs to its own training and capacity building programs. It also sometimes serves as support to policy reforms. The published research reports of the Center are available on the website and may be accessed for free. Check out the iKNOW Portal for more SEAMEO INNOTECH research products.