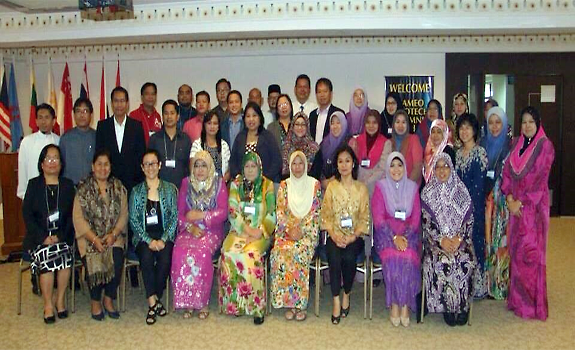 SEAMEO INNOTECH launches regional network of alumni
SEAMEO INNOTECH launched in April 2014 its Regional Network of Alumni during a study visit program to model schools in Brunei Darussalam. The launching was attended by Datin Dr. Hajah Haji Morni, acting Director General of the Ministry of Education and Director of Schools, and Dr. Ramon C. Bacani, SEAMEO INNOTECH Center Director, who joined the launch via video conferencing.
Twenty-one SEAMEO INNOTECH alumni from Brunei Darussalam came to witness and give support to the launch. They were joined by the participants of the study visit program, who were the Center's former scholars from the Philippines and Thailand through the SEAMEO Educational Development Fund.
The launch was marked by exchanges on learning and fun experiences while attending programs ran by the Center. Dayang Hajah Noor Eshan binti Haji Noor Kaseh, head of Staff Training and Development Unit of the Department of Schools and her entire team co-organized the program with SEAMEO INNOTECH officers.
Simultaneous with the launch of the Regional Network of INNOTECH Alumni in Brunei Darussalam was the soft launch of an alumni portal at the SEAMEO INNOTECH campus in Quezon City, Philippines. The soft launch was also attended by former participants of the Center's programs, officials from the Department of Education, and INNOTECH officials and staff led by Dr. Bacani. The portal will serve as a platform for continuing learning exchanges among the Center's alumni. It also seeks to provide support for the continuing professional development and transformation of school leaders in the Southeast Asian region.