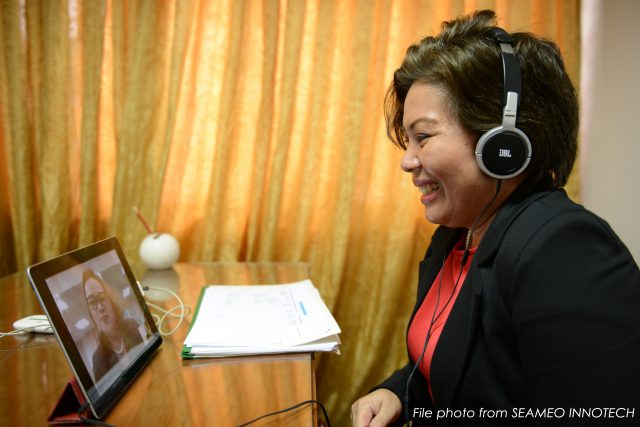 24 Oct

SEAMEO INNOTECH's GURO21 wins Wenhui Award 2017

SEAMEO INNOTECH's flexible course, Gearing Up Responsible and Outstanding Teachers in Southeast Asia for the 21st Century (GURO21) was named one of the two winners of UNESCO's Wenhui Award 2017. Winners of the said Award were announced 13 October 2017 through UNESCO Bangkok's website and UNESCO Asia-Pacific Facebook Page.

GURO21 is a menu of flexible learning courses offered through the Center's Learning Management System, iFlex. The program addresses teachers' needs in relation to the technological advances and changing educational trends of the 21st century. Its courses were developed based on the Competency Framework for Southeast Asian Teachers of the 21st Century, which covers 11 general competency areas and 64 enabling or sub-competencies. With SEAMEO INNOTECH's partnership with local universities and institutions, completers of GURO21 may receive credit units for their graduate or post-graduate programs. About 7,467 teachers in the Philippines has been trained under GURO21 since its first run in 2012.

This year's Wenhui Award focused on "Innovations in the Professional Development of Teachers," recognizing the importance of continuous professional development for teachers in order for them to meet the demands of today's education system. Aside from having strong content and pedagogical knowledge, teachers are also expected to have effective classroom management skills, adopt new technologies, and be inclusive and sensitive in the diversity of their students. And in order to have these competencies, teachers must undergo quality training and continuous learning.

GURO21 along with China's Rural Teacher Training, the other recipient of the Wenhui Award 2017, and other shortlisted projects goes to show that there are various opportunities for teachers to develop their capacities, may it be formal or non-formal. According to Dr. Libing Wang, Chief of Section for Educational Innovation and Skills Development (EISD) at UNESCO Bangkok, this year's winners clearly exemplifies the theme.

"Well supported teachers and easily accessible, continuous, effective professional development practices are essential to quality education. Innovation is the key to making this a reality," he said in a press release.

The Wenhui Award for Educational Innovation is organized by the Asia-Pacific Programme of Educational Innovation for Development (APEID), National Commission of the People's Republic of China for UNESCO, and Chinese Society of Education (CSE), and coordinated by UNESCO Bangkok.