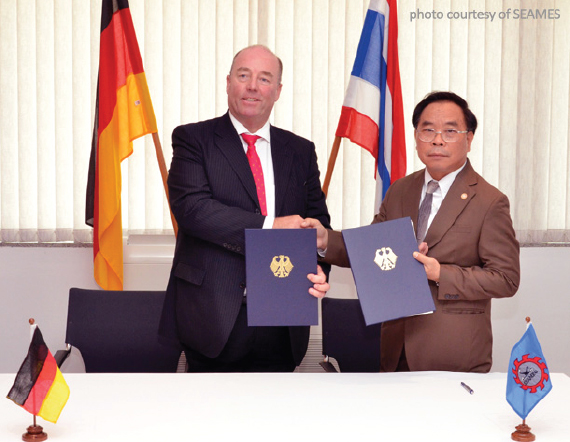 SEAMEO SIGNS MOU WITH GERMANY FOR SEA SCHOOLS HEALTH CARE PROJECT
SEAMEO has signed a memorandum of understanding with the Federal Republic of Germany for the implementation of a seven-year project on health care for Southeast Asian schools worth 5.7 million Euros or approximately PHP 323.2M. The MOU signing was held on May 29 at the Embassy of the Federal Republic of Germany in Bangkok, Thailand between German Ambassador to Thailand Mr. Rolf Peter Gottfried and SEAMEO Secretariat Director Dr. Witaya Jeradechakul.
SEAMEO INNOTECH is set to implement the project, following the successful run of school health programs, which it developed in 2011with the German Federal Ministry for Economic Cooperation and Development (BMZ), through the German Agency for International Cooperation (GIZ). The programs, which made use of the Fit for School (FFS) concept and the essential health care package of the Philippine Department of Education, included the promotion of proper hand washing, tooth brushing, de-worming, and engagement of the school-community in constructing water, sanitation and hygiene (WASH) facilities. These were tried out and were found successful in selected public elementary schools in Cambodia, Indonesia, Lao PDR, and the Philippines.