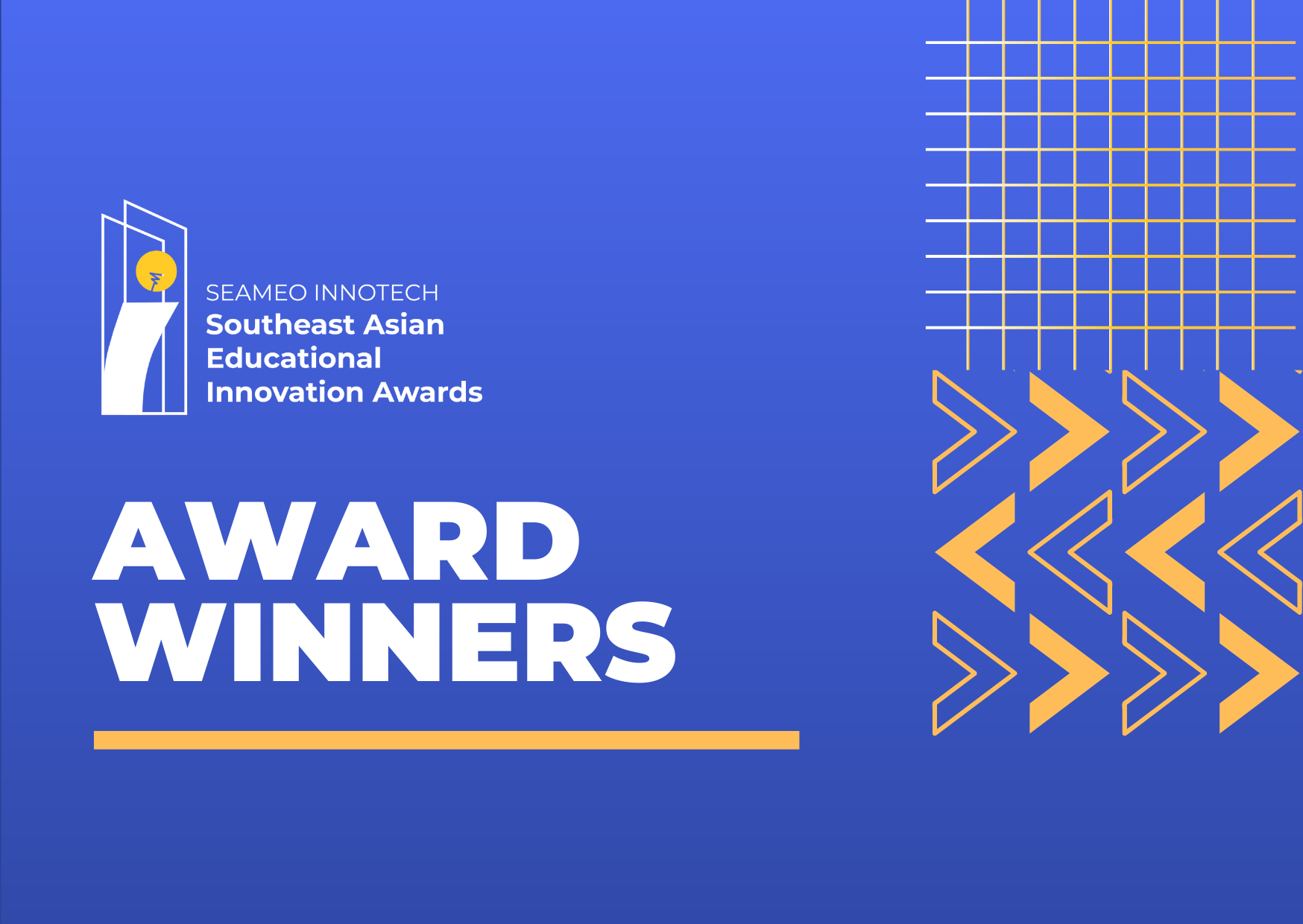 Southeast Asian Educational Innovation Awards (SEA EIA) Winners
SEAMEO INNOTECH is proud to announce the winners of the Southeast Asian Educational Innovation Awards (SEA EIA). Out of more than 300 classroom and school innovations received from six (6) countries in Southeast Asia, such as Cambodia, Indonesia, Malaysia, Philippines, Thailand, and Vietnam, these are the teachers and school heads who stood out the most. The winners were selected after going through a three-level review. 
These winners will receive a trophy of recognition and a travel grant up to 3,000 USD each. They will also be invited to present to an INNOTECH-organized fora and will have their innovations featured on an INNOTECH special publication. 
For the Teacher Category:
Improving Kindergarten Performance in Mathematics and Reading Through Digital App and Reading Videos
Ms. Joana B. Romano, a Master Teacher I from Melencio M. Castelo Elementary School in Payatas, Quezon City, Philippines, developed an offline, game-based digital application coupled with a set of video materials to teach Kindergarten students mathematics and reading in their Mother Tongue language. The digital app and videos have helped her students improve on their mathematics and reading skills while also developing positive attitudes towards the subjects.  
Development and Implementation of "Dara" Applications To Learn Sound Perception And Communication of Deaf Children During Pandemic
Ms. Betya Sahara is a Teacher at SLB Negeri Kota Banjarbaru in Kalimantan Selatan, Indonesia. SLB Negeri Kota Banjarbaru is a school dedicated to children with special needs. One of their school's programs for deaf children is the Development of Sound and Rhythm Perception Communication. This allows deaf children to communicate and recognize sounds around them, through hearing and feeling. Ms. Sahara developed an android-based mobile application, called "Dara" (Awareness Voice), as a learning medium for the program. The mobile application consists of sounds with certain vibrations to allow the learners to describe sounds, detect sounds, and learn to communicate orally. The mobile app also includes instructional videos, quizzes and games, and speech recognition which helps the learners correct their pronunciation. The learners showed increase in sound perception with the use of the mobile application. Parents and the learners also found it easier to learn at home using the mobile application. 
For the School Head Category:
TEACH TALK (Teachers' Engagement, Action and Commitment in Assisting Learners at Home to Think, Ask, Listen, and Build New Knowledge)
In a location where internet connection is unstable, Ms. Mary Hazel Ballena, Principal of Bucay North Elementary School in Abra, Philippines, together with the school teachers, thought of using a different medium to deliver learning to their students in the middle of the pandemic. Through partnership with different stakeholders, the school was able to provide handheld two-way radio for every student which they used to deliver lessons, conduct learner assessments, and conduct parent orientation and meetings. As observed through their learners' performances throughout the year, the students yielded favorable learning outcomes and increased their school performance in every subject. This project also strengthened the bond between the teachers, their learners, and the parents as they were able to communicate freely and immediately. The school hopes to continue the use of the two-way radio for their future activities, even beyond the pandemic. 
E-NAY.COM (Education for Nanay in the Community)
Mr. Rowan L. Celestra, Principal of Buenavista Elementary School in Sorsogon City, Philippines, spearheaded the project to capacitate the "Nanay" (Mothers) in the community to be learning facilitators. During the pandemic, parents have taken a bigger role in facilitating the learning of their child at home. Mr. Celestra thought of making everyone in the community a part of the distance learning. He thought it is the best option for a community that does not have access to internet, or even television. Along with capacitating the mothers in the community, the project also established a learning center in every purok (zones within the community) which serves as a library, drop-off point of modules and activity sheets, and classroom. Through the established small community learning centers and with the help of the Mother Teacher Volunteer, learners were able to continue learning in an engaging way. The project did not only benefit the learners, it also empowered the mothers in the community as they become learning partners in this time of emergency. 
SEAMEO INNOTECH is proud to name these outstanding teachers and school heads as this year's winners of the Southeast Asian Educational Innovation Awards. Their creativity and innovation effectively addressed the needs of their learners in this challenging situation. More importantly, their passion and dedication inspired and will continue to inspire many others on this journey to providing a better future for every learner. 
SEAMEO INNOTECH will be organizing a series of activities involving the winners of the SEA EIA. Please follow our social media pages SEAMEO INNOTECH and SEAMEO INNOTECH Southeast Asian Educational Innovation Awards for updates.