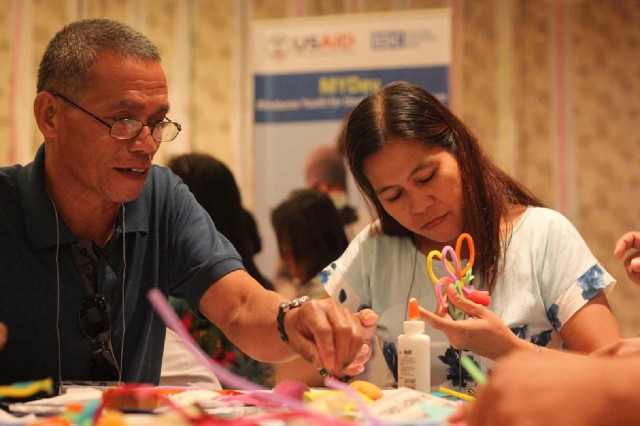 Strengthening capacities of ALS implementers in MYDev areas
SEAMEO INNOTECH recently conducted the back-to-back offering of the training on enhancing the capacities of key DepEd ALS implementers  stationed in eight  program sites of the USAID-  Mindanao Youth for Development (MYDev) Program.  The training program was conducted in Zamboanga  City from November 18 to 20 2014  and Cotabato City from November 25 to 27 2014. This   is part of the continuing collaboration between SEAMEO INNOTECH and USAID to increase youth access to education through the DepEd's Alternative Learning System (ALS).
Thirty-one ALS implementers from the cities of Zamboanga, Isabela and Lamitan and the municipalities of Indanan and Jolo of Sulu Province attended the first phase of this capacity building program in Zamboanga City.  Another batch of 23 ALS implementers from the cities of Cotabato, Marawi and municipality of Parang, Maguindanao attended the run in Cotabato City.
The program included a half-day visit to ALS sites for the participants to observe on-going classes and interact  with the learners, instructional managers, mobile teachers and partners and stakeholders. This served as learning points  for the ALS implementers to reflect on their current practices and enhance their competencies in conducting effective instructional supervision and monitoring.
They  then collaboratively reviewed and improved their individual ALS work plans by  identifying  key action steps to strengthen instructional supervision, monitoring and evaluation of ALS program interventions. This program also became a venue for the participants to discuss and agree on practical and useful mechanisms for greater collaboration and exchange of ideas and strategies to continuously improve the delivery of ALS programs.
Phase 1 was designed to deepen the participants' understanding of the ALS work context including the developments on the ALS program given the K to 12 basic education reform and the new Abot Alam program. The second phase of this program will be conducted in April 2015 which will take off from the lessons in implementing the key action points developed under Phase 1.