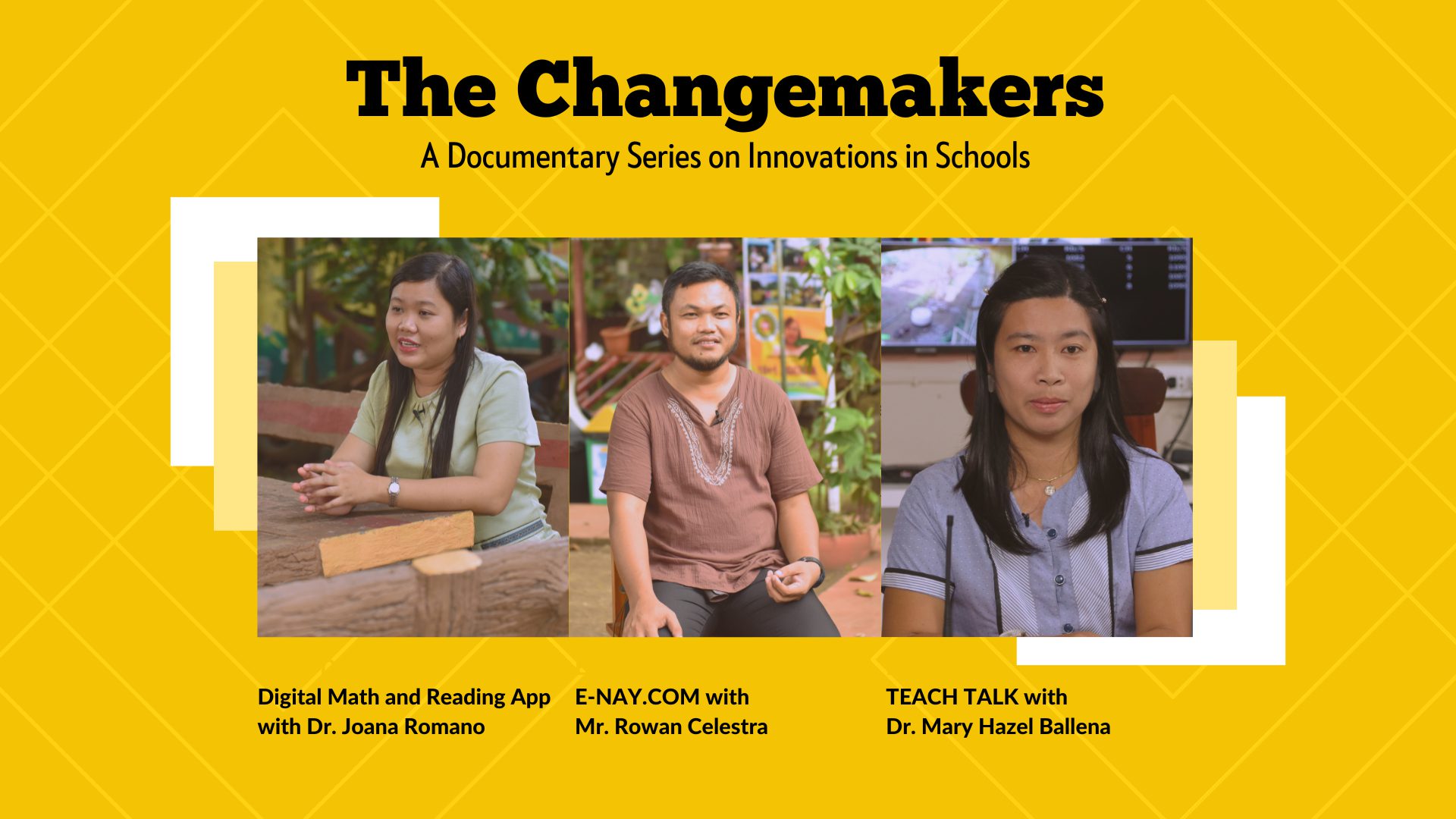 INNOTECH Unveiled "The Changemakers" Docu Series During National Teachers' Month
In time for the National Teachers' Month, SEAMEO INNOTECH launched its first-ever documentary series entitled, "The Changemakers." This series features the winners of the Southeast Asian Educational Innovation Awards (SEA-EIA), their respective innovations, along with their inspiring stories. The episodes also celebrate their resilience, creativity, and dedication, shedding light on the importance of grass-roots initiatives.  
Comprising three episodes, The Changemakers delves into the innovation stories of the following award-winning educators: 
Dr. Joana B. Romano – Episode 1
Innovation : Improving Kindergarten Performance in Mathematics and Reading through an App and Reading Videos
School: Melencio M. Castelo Elementary School, Quezon City 
Mr. Rowan Celestra – Episode 2
Innovation: Education for Nanay in the Community (E-NAY.COM): Capacity Building for Mothers to be Learning Facilitators in Time of Emergencies in Education
School: Buenavista Elementary School, Sorsogon City 
Dr. Mary Hazel Ballena – Episode 3
Innovation: Teach Talk: "Teachers' Engagement, Action, and Commitment in Assisting Learners at Home to Think, Ask, Listen and Build New Knowledge
School: Bucay North Elementary School, Bucay, Abra
The series was conceptualized with these key objectives in mind: 
Documenting Impact: The primary goal was to document and capture the profound impact of award-winning innovations from the perspective of students and the beneficiary communities. These documentaries offer an in-depth exploration of how innovative teaching methodologies have positively influenced the lives of stakeholders. 
Showcasing Success: The series highlights and showcases successful practices, emphasizing how these innovations can be replicated or adapted in various contexts. By sharing these success stories, the center aims to contribute to the ongoing discourse on educational innovation, and to inspire educators in the region to embrace innovative approaches in teaching. 
Expressing Gratitude: As part of the National Teacher's Month celebration, the docu-series serves as a heartfelt tribute to teachers and school heads. Their dedication, creativity, and resilience are at the core of this initiative, especially as the region recovers from the limitations brought by the pandemic.
The Changemakers highlights the unwavering spirit of educators and their ability to transform challenges into opportunities. As we navigate the complexities of the ever-changing educational landscape, these stories serve as beacons of inspiration, illuminating the path towards a future where innovation is encouraged, celebrated, and supported. These narratives contribute to creating a culture of innovation, where educators and learners are empowered to shape a brighter tomorrow. 
Join us in honoring these inspiring educators who are shaping the future of education, one innovative idea at a time. You can check out The Changemakers on Facebook and on YouTube. You can also read about these winning innovations in the first issue of the INNOTECH Educational Innovation Digest.