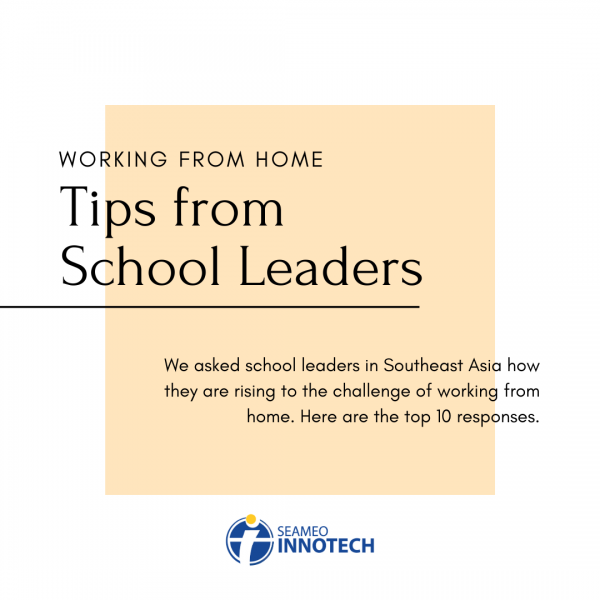 Tips from School Leaders: How to rise to the challenges of working from home
Everyone is being affected with the global pandemic. As we strive to keep up with our new normal, we learn how to rise amid the the challenges.
We asked school leaders in Southeast Asia how they are rising to the challenges of working from home. Here are some tips from school leaders for their fellow school leaders.
Set a norm for your school team — Schedule a regular meeting online. Set a date and time that's most convenient for everyone.
Communicate often and regularly — Check-in with your teachers every now and then. Your agenda does not have to be about work all the time.
Leverage technology — Use and explore different digital tools and platforms that will work for you, your teachers, and students. There are a number at your disposal: Zoom, Google Classroom, WhatsApp, Messenger, etc. Mix and match, if needed.
Reach out to parents — Right now, they are your number 1 partner in making sure that learning is continuously happening at home.
Be a little more considerate — Since your teachers are at home, expect that they are busy homeschooling their children, cooking meals, doing chores, etc. Your patience and kindness can go a long way!
Show your other side to your teachers and students — It's the perfect time to share a joke, a recipe, or the list of movies that you watch. Be a source of comfort and joy!
Maximize the school's available resources — You have your teachers, parents, the school's online database, and others. You probably have more resources than you realize. Tap them.
Experiment and keep an open mind — What's happening now is both unexpected and unprecedented. Encourage your teachers to tryout new learning processes and solutions. Relax some rules and protocols.
Appreciate the simple pleasures in life — There's still so much to be grateful for.
Just keep going — Continue to inspire your teachers, students, parents, and the rest of the community to get their way through these difficult times.
How about you? How do you get by with the work from home arrangements? Share it with us!