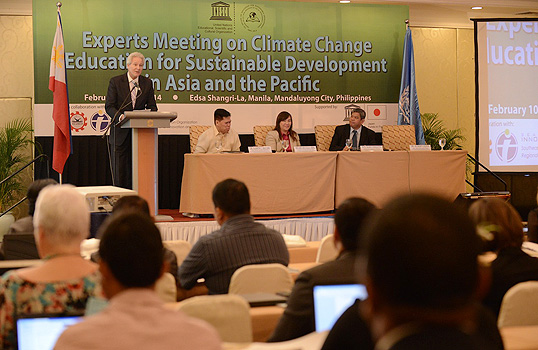 UNESCO, SEAMEO seek better education response to disasters
Prof. Dr. Hubert Gijzen, director of the UNESCO Office in Jakarta, Indonesia has likened the Philippines to a "supermarket" of disasters due to the frequency and intensity of calamities it continues to experience brought primarily by typhoons, earthquakes, and floods. Similarly, Philippine Climate Change Commission Secretary Anne Lucille Sering called the country a "mecca" of disasters. Both, however, agree that in all these disasters, there are opportunities to be had.
The two made the pronouncements during the international experts meeting on climate change education for sustainable development in Asia and the Pacific, hosted by the UN Educational, Scientific, and Cultural Organization (UNESCO), in collaboration with SEAMEO INNOTECH, at the Edsa Shangri-la Manila in Mandaluyong City, Philippines. The meeting, held from 10 to 12 February 2014, was also graced by SEAMEO INNOTECH Center Director Dr. Ramon C. Bacani, and Philippine Department of Education Undersecretary Mario Derequito.
Close to a hundred delegates representing a multi-disciplinary and diverse group of stakeholders mostly from Asia-Pacific countries attended the meeting. Among these were national education representatives, curriculum development experts, representatives of schools and education networks, scientists and climate change experts, and representatives of multi-lateral agencies, research and training institutions, and civil society.
Prof. Dr. Gijzen said that while the Philippines may constantly experience disasters, whatever it achieves and learn from each disaster eventually serves as learning opportunities for other countries, as well.
Citing the disaster brought by super typhoon Haiyan (local name Yolanda), which greatly devastated central Philippines in November 2013, Prof. Dr. Gijzen said the appropriate responses, particularly for the education system, include imposing higher school building standards to make these more safe and resilient; enriching the curriculum about disaster and risk reduction; ensuring that school-based practices are able to reinforce class lessons on DRR; and once these are done, the message could spill over to the communities.
Secretary Sering underscored the importance of education because, as she said, this is what will convince people to take action. She said that no matter how annoying we become, we cannot just be disappointed and stop educating people about climate change.
The three-day meeting sought to come up with recommendations and a plan of action on how to promote education as an important means to enhance adaptation to climate change. These recommendations on the other hand will serve as inputs to the UNESCO World Conference on Education for Sustainable Development to be held within the year in Nagoya, Japan.