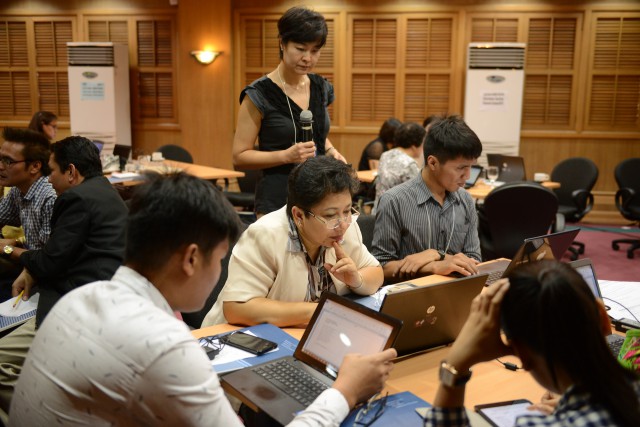 Workshop on competency-based teacher training reforms
On 21-22 July 2015, the 1st National Workshop on Supporting Competency-Based Teacher-Training Reforms to Facilitate ICT-Pedagogy Integration was held at the SEAMEO INNOTECH Center, Philippines. UNESCO Bangkok, the Philippines' Commission on Higher Education (CHED), and SEAMEO INNOTECH collaborated to update and enhance the country's existing National Competency-Based Teacher Standards (NCBTS), particularly the domain of teacher's skills in using Information and Communication Technology (ICT) in teaching and learning.
"There have been many developments in the area of Information and Communication Technology…it is time that we review and look at the NCBTS, particularly the ICT competencies within the NCBTS," said Dr. Ramon C. Bacani, SEAMEO INNOTECH Center Director.
Since 2004, NCBTS has been the core of the Department of Education's Teacher Education Development Program (TEDP). It has been adopted by teacher education institutions (TEIs) throughout the country and the Professional Regulation Commission (PRC) for teacher's licensure examination.
CHED Commissioner Dr. Minella Alarcon said that this workshop is a timely initiative, especially now that the Philippines is in the process of K to 12 implementation and ASEAN integration which have major impact in basic and higher education. "The results of this project will provide inputs towards improving CHED's policies, and raising standards and guidelines for quality teacher education programs in higher education institutions," Dr. Alarcon said.
The workshop was mainly facilitated by Ms. Jonghwi Park from UNESCO Bangkok and Dr. Purita Bilbao from CHED's Technical Panel for Teacher Education. Participants of the workshop included teachers from selected teacher education institutions in the Philippines, CHED's Technical Panel for Teacher Education, Technical Working Group for the ICT-pedagogy integration project, and representatives from relevant departments of the Philippines' Department of Education.
 Through this workshop, the participants were able to voice their concerns regarding ICT integration in the teaching-learning process, as well as training teachers in using ICTs. Some of their recommendations  are emphasizing collaborative and blended learning, making the class more student-centered than teacher-centered, using available devices and digital tools, developing more specific and doable performance indicators, and training of teachers.
The output of this workshop will be reviewed and worked upon by the CHED's Technical Group to finalize the Philippines' recommendations on ICT-pedagogy integration into the revised Policies, Standards, and Guidelines (PSGs).
This workshop is part of the UNESCO Bangkok's project on "Supporting Competency-Based Teacher-Training Reforms" where the Philippines is one of the pilot countries chosen for the study, along with Uzbekistan and Nepal. Funded by Korea Funds-in-Trust, this project aims to enhance the capacities of UN member states in reviewing and improving teacher competencies on integrating ICT effectively in teaching and learning. It also aims to support the adoption of competency-based ICT teaching standards, wherein teacher professional development is systematically guided, assessed, monitored, and tracked at policy and institution levels.