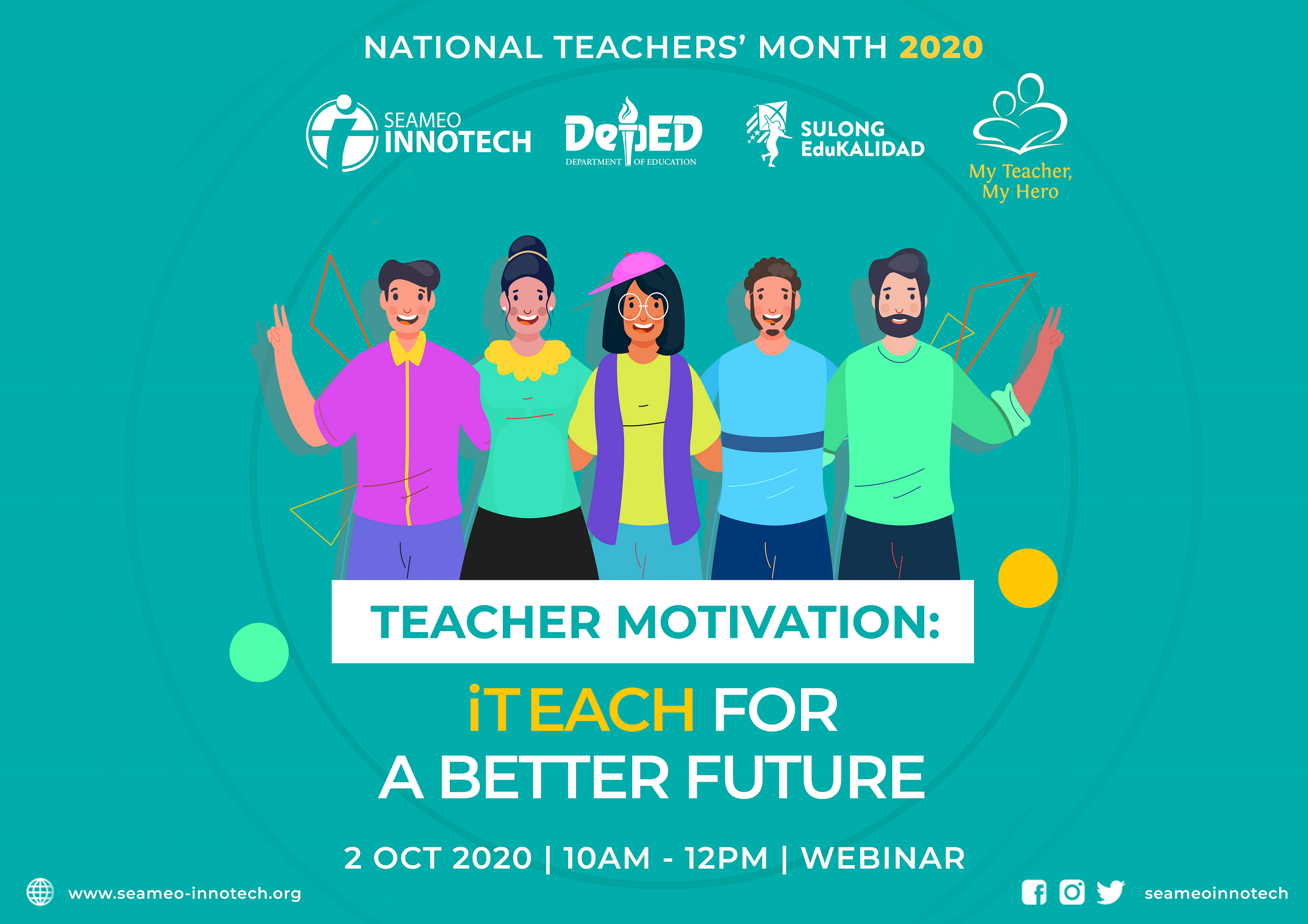 Deped and INNOTECH conducts Teacher Motivation Webinar
In celebration of the National Teachers' Month, SEAMEO INNOTECH, in partnership with the Department of Education, is convening a Teachers' Forum on "TEACHER MOTIVATION: iTEACH FOR A BETTER FUTURE" on 2 October 2020 at 10 AM to 12 NN. The forum will be livestreamed through the DepEd FB page and that of INNOTECH.
The Forum and webinar will feature the findings and recommendations of the study conducted by SEAMEO INNOTECH on motivation among Filipino teachers; why teachers decide to enter the profession and why they choose to remain as teachers despite various challenges. Secretary Leonor Magtolis Briones will deliver the keynote speech for the forum.
The main findings of the study, titled Exploring Teachers' Whys: Understanding Motivation Among Teachers in the Philippines will be presented by Dr. Sherlyne Almonte Acosta, Senior Specialist and head of INNOTECH's Educational Research Unit. Dr. Jerome Buenviaje, Dean of the UP College of Education, Dr. Esther B. Ogena, former President of Philippine Normal University, and Dr. Alma Janagap, Master Teacher II of the DepEd Division of Iloilo City will give their reactions to the findings presented.
INNOTECH conducted the study in answer to Secretary Briones' call to gain a deeper understanding into the main reasons for going into the teaching profession and for pursuing a teaching career. INNOTECH researchers surveyed a total of 107 public elementary and secondary schools from 21 schools divisions across 17 regions. Some 2,764 teachers were interviewed in the study.
INNOTECH, or the Regional Center for Educational Innovation and Technology, headed by its Center Director, Dr. Ramon C. Bacani and former Undersecretary of the Department of Education is part of a regional intergovernmental organization dedicated to developing solutions to address education development concerns in Southeast Asia. INNOTECH has been hosted by the Philippines since 1976 and serves the region through its service areas of research and innovation, training and knowledge management. The annual Teachers Forum is organized by INNOTECH as part of its contributions to the National Teachers Month Coordinating Council (NTMCC).
—
Re-watch the broadcast here: