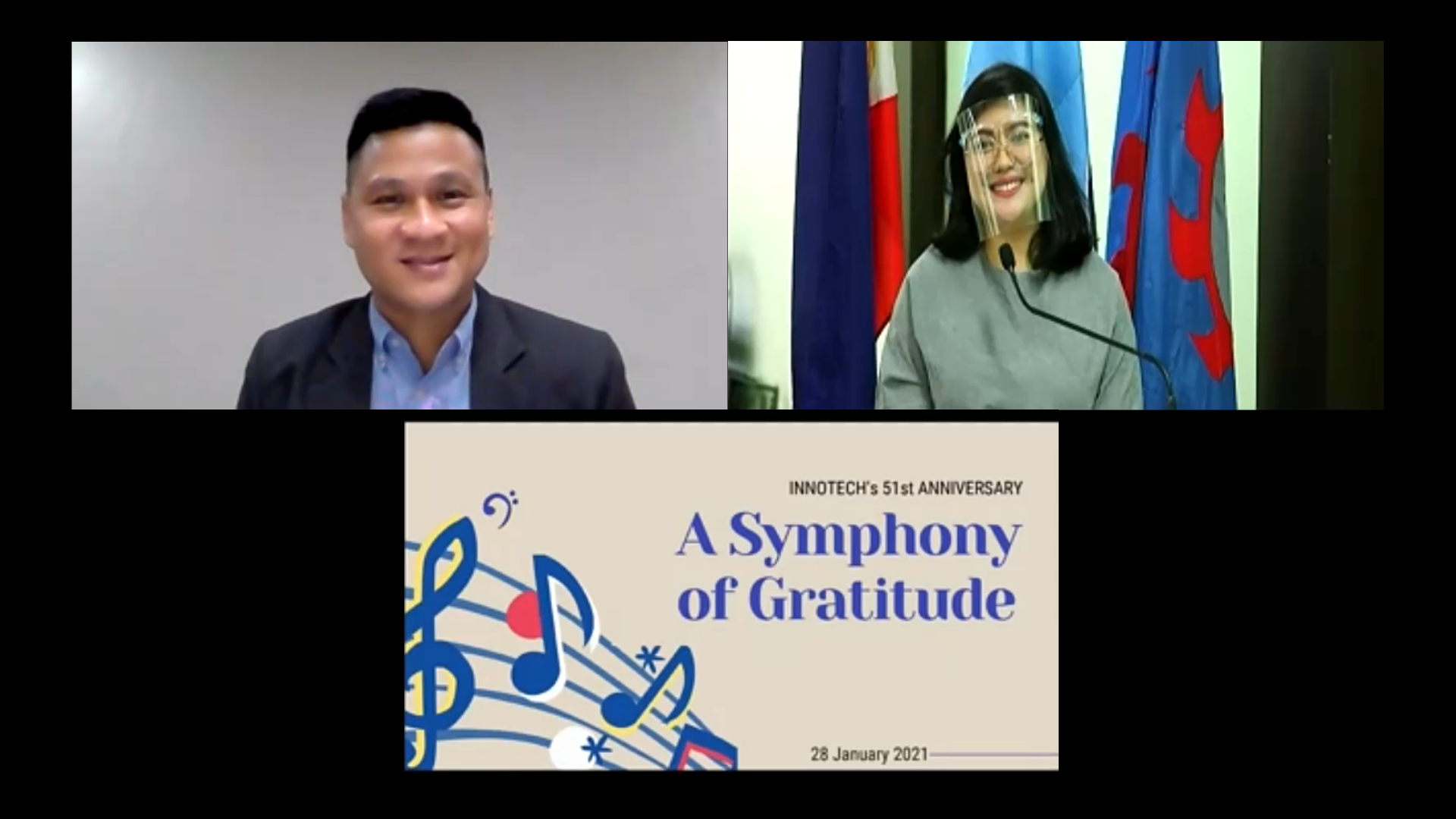 INNOTECH celebrates 51st anniversary virtually
On 28 January 2021, SEAMEO INNOTECH Staff and Partners convened virtually to celebrate the 51st anniversary of the Center, with the theme, "A Symphony of Gratitude."
Initially, the 51st Anniversary of the Center was supposed to be a grand concluding celebration of the Golden Year of INNOTECH. While things did not go as planned due to the global pandemic, there are still a lot of things to celebrate and be grateful for. During his opening remarks, Dr. Ramon C. Bacani, Center Director, expressed his gratitude to the work exerted by the staff and partners throughout the year. Amid the challenges of COVID-19, the Center was able to continue its learning programs, published research publications, mounted online knowledge fora, and continued staff development programs.
Another highlight of the year is the production of the 50th Anniversary Coffee Table Book. Dr. Bacani thanked the project team for working hard on the project. "The book is worth reading, not just scrolling through, especially the insights of the personalities included in the book," he said.
(Read: SPECTRUM: Stories of SEAMEO INNOTECH's Vibrant Years)
The 51st Anniversary also celebrated the accomplishments of two staff members who have reached their 20th year of service in the Center–Ms. Bituin Abuel from the Human Resources Management Unit, and Mr. Lino Ocampo from the Services and Facilities Management Unit. Ms. Bituin Abuel was also awarded with the SEAMEO Service Award for this year.
"Thank you for recognizing and appreciating my contributions in achieving the mission and success of the organization by taking care of its human resource." Ms. Abuel shared in her speech. "This pandemic made me realize how precious those moments when we were allowed to go out and gather, not just for fun and play, but also to manage our personal and work-related stresses by taking some time off our busy schedules." She later recalled the wellness activities that she organized over the past 10 years and how those programs helped the Center staff in coping and managing stress.
The SEAMEO Service Award is a recognition given to a Staff who have exhibited commitment and contribution to the achievement of the Center's goals and objectives. Awardees from the different SEAMEO Centers will be recognized in the upcoming SEAMEO Council Conference and will participate in a study visit in Bangkok, Thailand in the later part of the year.