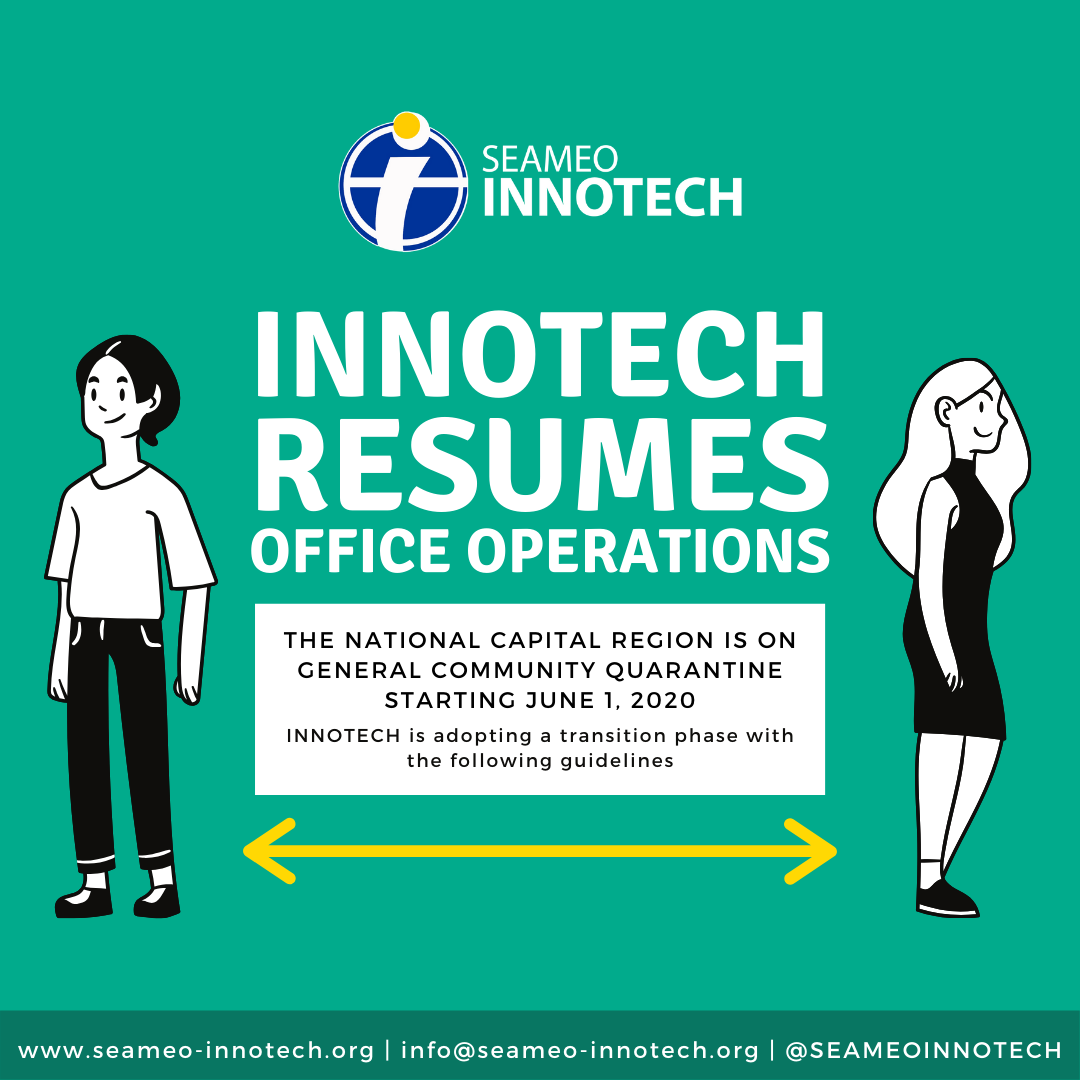 INNOTECH resumes office operations
Starting 1 June 2020, the National Capital Region (Metro Manila) will be on General Community Quarantine (GCQ). In line with this, INNOTECH adopts a transition phase with the following guidelines:
SKELETON WORKFORCE. We will still be operating with skeleton workforce. Only Finance, Administrative, IT, and Maintenance 

staff

 will be physically present at the Center, while 

most

 of the 

technical 

staff will be on a work-from-home arrangement.

 

The skeleton workforce will only work on 5-hour shifts in the morning or in the afternoon. 

 

WEARING OF FACE MASKS

.

 Anyone who enters the Center premises 

is required to wear a 

face 

mask at all times

.

 

HEALTH CHECK. Staff and guests may only enter the INNOTECH premises through the Main Lobby. Anyone entering the premises is required to acc

omplish a health status questionnaire from the Department of Health. Those with body temperature reading higher than 37.8

°C or show flu-like symptoms will be asked to stay at the designated isolation area.

 

SANITATION.

 Hand sanitizer and alcohol dispensers are available around the Center for everyone to use. Disinfection of work areas, cafeteria, kitchen, function rooms, and frequently handled objects and fixtures will be done twice daily. 

Staff and guests are not allowed 

into 

the Center premises 

on 

weekends and holidays

 to 

allow for natural disinfection

.

 

PHYSICAL DISTANCING

. 

Staff and guests must maintain physical distancing. Markings on the floor will be in place to guide queues (i.e. cafeteria, lobby). Deliveries will be received only

 at the lobby. Documents, payments, and 

chec

que

s

 will be received and

 given out at the lobby.

 

MEETINGS AND GATHERINGS. 

Virtual meetings are recommended; but if it cannot be avoided, meetings shall be limited to a maximum of 10 persons observing physical distancing.

 Meetings and similar functions organized by external clients are temporarily suspended

.

 
Center staff, partners, and guests are expected to observe the protocols in place to help mitigate the spread of COVID-19. 
INNOTECH continues to move forward with its programs and projects to meet the education needs of the region. For any concerns, you may reach us through our online channels: 
Thank you for bearing with us.