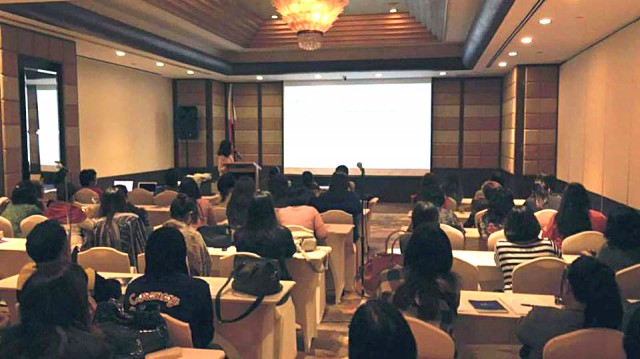 INNOTECH trains ECCD longitudinal study test administrators
SEAMEO INNOTECH has started its series of training for the 70 test administrators for the project "Longitudinal Study on the Effects of Kindergarten of Early Childhood Care and Development (ECCD) Program on Learning Experiences and Performance of Kindergarten Pupils through Grade 2." First batch of the training was held 3-5 November 2016 in Davao City for the 46 test administrators from Mindanao and Visayas.
(Related article: ECCD study test administrators conduct second round of data gathering)
The longitudinal study seeks to better understand the cognitive, social and emotional skills of young Filipino children in different contexts and to assess how ECCD relates to children's development, learning experiences and performance in the school. The research utilizes instruments developed by the Assessment, Curriculum and Technology Research Centre (ACTRC)—an assessment tool for numeracy and literacy—as well as other tests developed by SEAMEO INNOTECH and the Australian Council for Educational Research (ACER) for social emotional development skills and oral language skills.
The training of test administrators was conducted to introduce the new instruments to be used for the upcoming Round 3, targeted in the first quarter of 2017. In addition, the Sinugbuanong Binisaya version of the ACTRC test materials was validated in two sample sites, 7 November 2016.
The next training, which is for the test administrators from Luzon, will be held on 24-26 November 2016 in Quezon City.
The 4-year ECCD Study is led by UNICEF, in partnership with the Philippine Department of Education, Assessment, Curriculum and Technology Research Center (ACTRC), the Philippine Department of Social Welfare and Development, Australian Council for Educational Research (ACER), and SEAMEO INNOTECH.