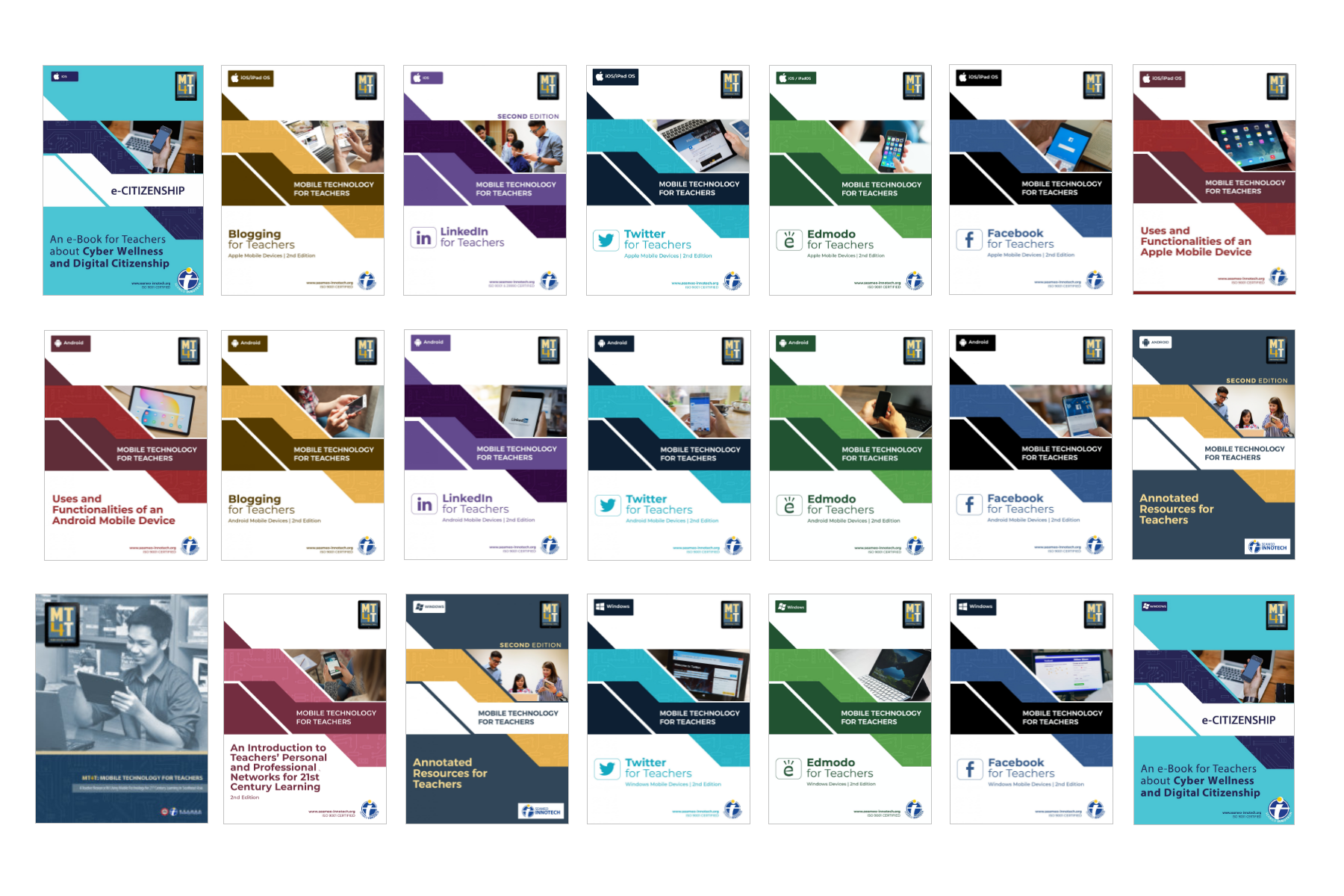 Second edition of MT4T e-Books now available on the website
The use of mobile technology in education has now become more prominent due to the current health situation around the world. Along with the increasing use of digital platforms due to limitations in face-to-face learning delivery, educators need to recognize the huge potential of mobile technology to facilitate learning continuity.
In 2014, SEAMEO INNOTECH embarked on the development of a collection of resources, called Mobile Technology for Teachers (MT4T), primarily to take advantage of the expanding use of mobile technology in education. MT4T sought to help Southeast Asian educators enrich their perspectives on the various use and possibilities offered by smartphones and tablets to enhance their own 21st century skills. The said resource kit also deepens teachers' appreciation of different mobile platforms and social media as tools for professional growth, expanding their personal and professional learning networks, and enhancing their higher order thinking skills, as well as that of their learners.
Recently, SEAMEO INNOTECH completed updating the set of MT4T e-books to reflect the latest developments on mobile technologies and social media platforms. The updated resources, which are available in two e-book formats (PDFs and ePubs) and contextualized for users of Android, Apple, and Windows devices include the following:
The Center has likewise produced the e-books on "An Introduction to Teachers' Personal and Professional Learning Networks for 21st Century Learning," "Blogging for Teachers," and "e-Citizenship: An e-Book for Teachers on Cyber Wellness and Digital Citizenship."
The ePubs of the MT4T e-Books are best viewed using the SEAMEO INNOTECH Reader, a universal e-book reader, which can be downloaded for free on the Google Play Store, Apple App Store, and Windows Store.
More resources are available on the MT4T website including infographics, user guides on the use of the SI Reader and the web forum, instructional videos for basic users of social media platforms, and learning packets on digital citizenship. Users can also communicate with other educators through the website's Forum Section.