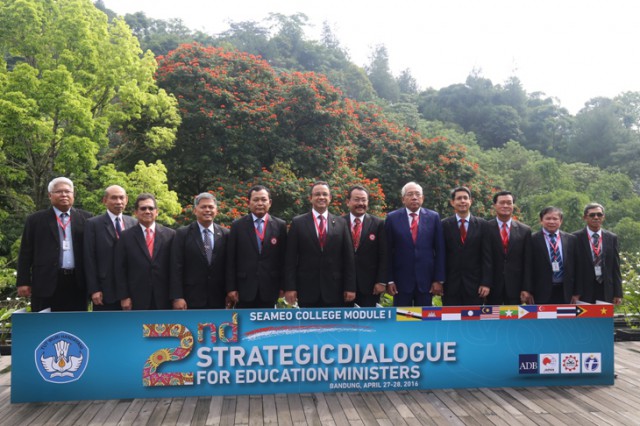 Southeast Asian Education Ministers update on regional education agenda
Education ministers and high-level education officials from the 11 SEAMEO member countries convened last 27-28 April in Bandung, Indonesia for the second Strategic Dialogue for Educations Ministers (SDEM).
SDEM is one of the four modules of the SEAMEO College on educational policy involving the Ministers of Education. It is envisioned to set a more dynamic policy development process through ministerial and high-profile strategic dialogues. The dialogue is fuelled by a shared desire to take note of the achievements and practices in the region, the policies that worked and how they work best, the lessons to be learned and the remaining shared challenges.
The discussions from the first Ministerial Dialogue last September 2014 provided a rich harvest of insights, reflections, and opportunities for joint action among the Ministries of Education. As it was recognized that education in Southeast Asia will face more demanding challenges beyond 2015, the Seven Priority Areas of SEAMEO on Education was developed to be promoted for the next twenty years (2015-2035).
The seven priority areas that will drive SEAMEO to promote excellence in education, science, and culture are: (1) early childhood care and education; (2) addressing barriers to inclusion; (3) resiliency in the face of emergencies; (4) promoting technical and vocational education and training (TVET); (5) revitalising teacher education; (6) promoting harmonisation in higher education and research; and (7) adopting a 21st Century curriculum.
The second SDEM took off from the issues covered from the previous dialogue, including the seven priority areas. Education Ministers emphasized the need to work as a region, rather than focusing on the achievements and problems of their individual countries. They consensually agreed that one nation's problem should be addressed by the whole region. They also emphasized the need to synchronize the plans across government ministries to for a more efficient implementation of projects. Education Ministers were also able to propose regional projects in support of the seven priority areas, like school networking, public engagement, and public-private partnerships among others.
The dialogue is organized under SEAMEO College, a flagship project of SEAMEO which introduces a platform for high-level discussions on forward-looking issues and concerns that will help prepare Southeast Asia for the challenges of the future, and support the realization of the ASEAN community. The project consists of series of forums and research and development activities that address specific challenges faced by high-level education leaders and practitioners in Southeast Asia and around the world.
—
Cover photo credited to SEAMEO Secretariat and Ministry of Education and Culture of Indonesia