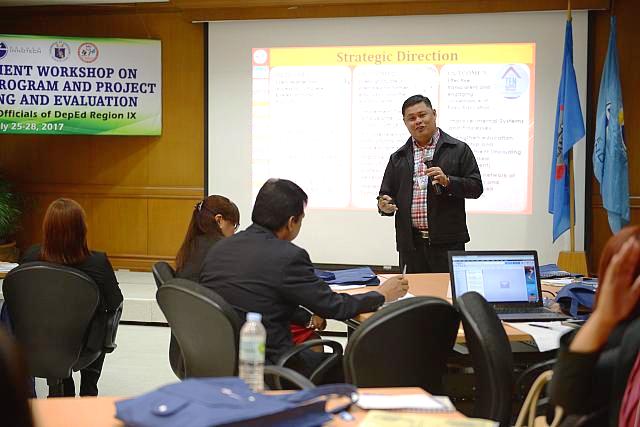 DepEd Region IX officials enhances M&E
Forty-eight officials from the Department of Education (DepEd) Region IX participated in a 4-day workshop facilitated by SEAMEO INNOTECH, 25-28 July 2017 in Quezon City. The program entitled, "Enhancement Workshop on Education Program and Project Monitoring and Evaluation," aimed to develop the competencies of the Regional Quality Assurance Monitoring and Evaluation (RQAME) Teams to effectively assist and guide school divisions to improve learning outcomes in the region.
The RQAME teams are tasked to monitor, evaluate and assess the implementation of various educational programs, projects, and activities in the school divisions, particularly on its impact to learning outcomes and effective governance. The team needs to have an expansive perspective of the importance and context of quality assurance, monitoring and evaluation functions of the region, and how these impact on improved policy directions and decision making.
Aside from enhancing the capabilities of the team members, the workshop also served as a venue for the RQAME teams to revisit their existing Regional Integrated Monitoring and Assessment (RIMA) Framework and M&E tools. The participants were able to discuss their Regional Education Development Plan, their current monitoring and evaluation practices and processes, and their roles and functions as RQAME team members. At the end of the workshop, the teams were tasked to develop action strategies and work mechanisms to effectively carry out their quality assurance, monitoring, and evaluation functions.
"Enhancement Workshop on Education Program and Project Monitoring and Evaluation" was facilitated by SEAMEO INNOTECH under the request of and mutual agreement with DepEd Region IX Regional Director Dr. Isabelita Borres and her team.