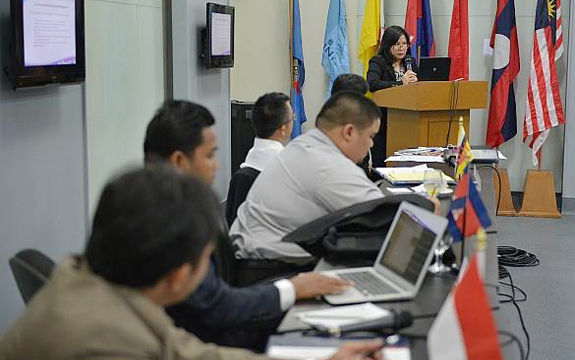 Education experts address infollution
Education officers from SEAMEO member countries were at the Center in April 2014 for two combined activities–the "Regional Policy Forum of Infollution" and the "Consultative Workshop on the Development of a Mobile Technology Toolkit on Cyber Safety and Emotional Intelligence (MTEi)."
The two activities aimed to facilitate discussion among experts and education leaders on existing policies and programs regarding infollution—the harmful by-product of new-age technology. It also aimed to draw out expert inputs that can be adopted for the MTEi resource kit, which is a new project of SEAMEO INNOTECH. MTEi is a toolkit for parents and teachers that highlights Southeast Asian values for the development of the emotional intelligence of children.
The forum cum workshop featured country paper presentations where representatives shared an overview of policies and programs on cyber safety, cyber-related crimes, and emotional intelligence development. Two days were spent on the design and content development of the MTEi toolkit.
Experts from infollutionZero, UNESCO, and other organizations, also shared their expertise and experience in the design and implementation of initiatives addressing infollution.