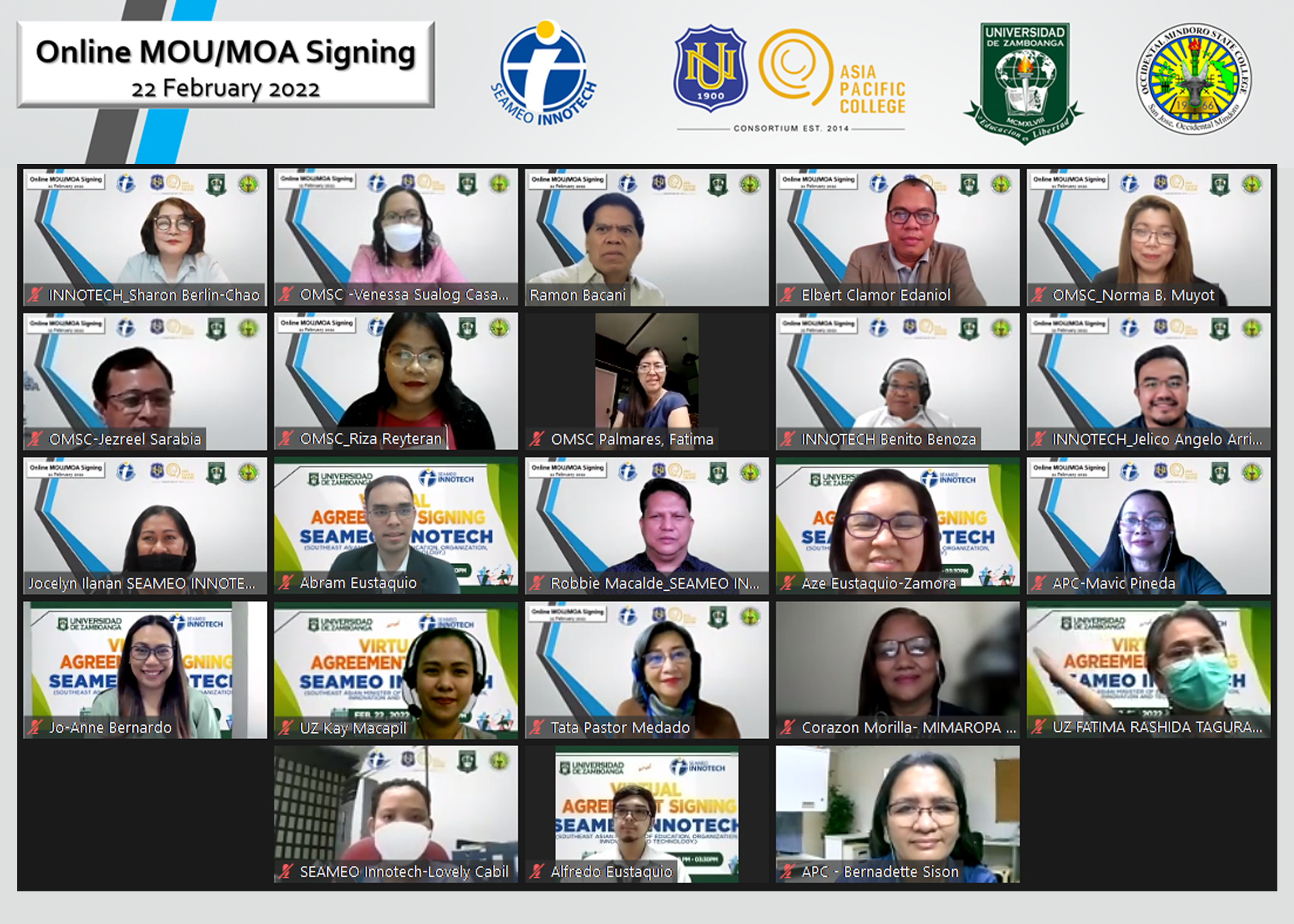 INNOTECH forges partnership with three institutions
On 22 February 2022, SEAMEO INNOTECH formalized its partnership with three outstanding institutions across the country—the Asia Pacific College (APC), Universidad de Zamboanga (UZ), and Occidental Mindoro State College (OMSC). The signing was done virtually, connecting the institutions from four different locations.
INNOTECH has previously worked with these institutions in the past years through taking their students as interns and engaging their professors as INNOTECH Flexible Learning Tutors. However, this is the first time that the institutions are formalizing their partnership for continued collaboration on programs.
"I am happy to reconnect with these three institutions. I have worked with them around 30 years ago when I was still in DepEd. I believe that we will have a productive and meaningful collaboration in the coming years," Dr. Ramon C. Bacani, Center Director of SEAMEO INNOTECH, said in his opening message.
The Memorandum of Understanding (MOU) with the three institutions will facilitate cooperation between and among the institutions in the areas of knowledge sharing and program development and implementation. The MOU will also enable sharing of relevant information in terms of research reports and best practices.
"This is about creating an ecosystem of partnership that will increase communication, collaboration, and connection," said Dr. Ma. Teresita P. Medado, President of APC, in her message. She highlighted the importance of information technology in the teaching pedagogy, especially in this current situation, which they hope to further utilize to provide better services to their learners. "Let us reap the benefits of IT, and today, we start all of this with our partnership," she added.
Mr. Abram M. Eustaquio, Executive Vice President of UZ, emphasized in his message the fast-changing landscape of education, urging educators to be more innovative and creative. He said that this partnership will help address the challenges that this shift brings. "In connecting, we create opportunities, a catalyst for success, something I am confident that this partnership will bring," he said.
The Memorandum of Agreement (MOA), which was signed with OMSC, focused on implementing the Enhanced Joint Graduate Diploma Program with the continuous offering of eXCELS and GURO21 programs in Region IV-B. The MOA will also facilitate implementing Massive Open Online Courses (MOOCs), Strategic Thinking and Innovation (STI) courses, and new flexible and blended learning courses. More importantly, completers of INNOTECH learning programs will be granted academic graduate credits leading to a Diploma/Certificate program by the OMSC.
Dr. Elbert Clamor Edaniol, SUC President III of OMSC, underlined that communities are now more connected than ever, regardless of distance. "As members of the academe, it has become our primary concern to build engagement with certain agencies that would move us to recreate our educational horizons into becoming a more technical avenue for learning, and to promote a change in perspective in the development of a highly technological source of information for both learners and teachers, especially in these uncertain times," he said.
The partnership instruments were signed by Dr. Ramon C. Bacani, Center Director of SEAMEO INNOTECH; Dr. Ma. Teresita P. Medado, President of APC; Mr. Abram M. Eustaquio, Executive Vice President of UZ; and Dr. Elbert Clamor Edaniol, SUC President III of OMSC. Signing as witnesses were Dr. Sharon Joy B. Chao, Manager of INNOTECH's Learning Development and Management Office; Ms. Maria Victoria Pineda, Head of the National University Asia Pacific Academy, Dr. Jo-Anne J. Bernardo, Vice President for Academic Affairs of UZ; and Dr. Norma Muyot, Vice President for Academic Affairs of OMSC.
Also present during the signing ceremony were Dr. Milabo Ho, Executive Director of the Accrediting Agency of Chartered Colleges and Universities in the Philippines (AACCUP) and former University President of the Western Mindanao State University, and Dr. Corazon Morilla, a retired Dean of the Graduate School of the Divine Word College of Calapan. Dr. Ho introduced UZ to INNOTECH, while Dr. Morilla recommended OMSC to partner with INNOTECH.
INNOTECH has been developing, co-creating, and implementing relevant learning programs with its partner institutions for years. The Center is proud to have 31 partner universities and colleges in the implementation of the Joint Graduate Diploma Program.