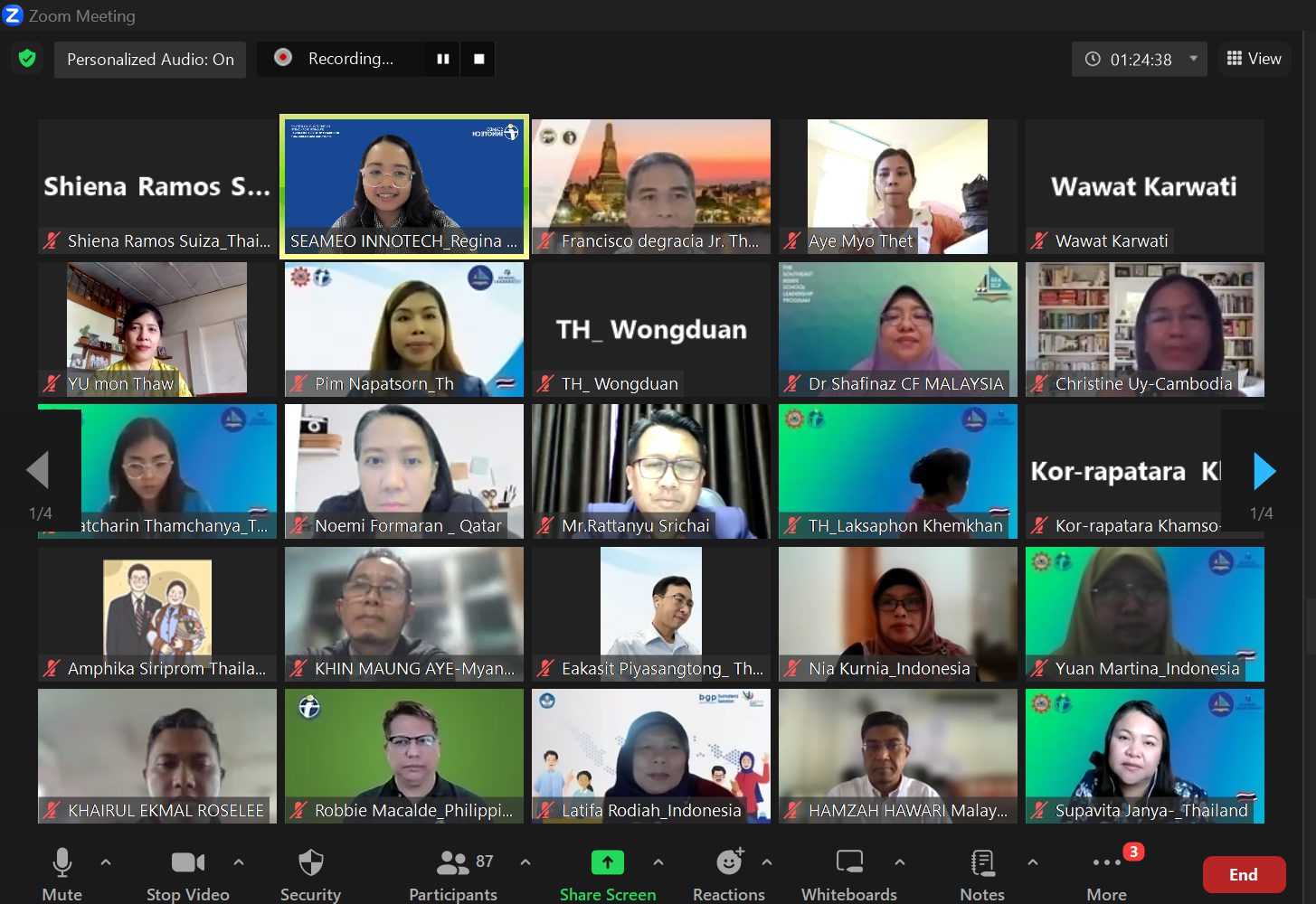 INNOTECH Launches the 2023 Online SEA-SLP 
SEAMEO INNOTECH held an online orientation for the 5th run of the Southeast Asian School Leadership Program (SEA-SLP) on November 10, 2023.  
SEA-SLP is a professional development program for school heads that aims to build stronger and more resilient schools. The program covers the five most essential competencies of high-performing school heads: Strategic Thinking and Innovation, Instructional Leadership, Stakeholder Engagement, Managerial Leadership, and Personal Excellence. INNOTECH's Competency Framework for School Heads in Southeast Asia is the basis for the program structure of the SEA-SLP. 
INNOTECH offered SEA-SLP to school heads as a scholarship under the SEAMEO Educational Development Fund. The program managed to invite 115 participants from 14 different countries, which makes this year's batch of school leaders the biggest cohort since the program's pilot in 2021.  
The 2023 edition of the SEA-SLP is the first time that participants from beyond Southeast Asia are joining the program. The group includes school leaders from Belize, Taiwan, Pakistan, the Republic of Korea, and Sri Lanka, as well as Filipino school heads from the Kingdom of Saudi Arabia, Oman, and Qatar.  
Dr. Juan Robertino D. Macalde, Manager of the Learning Development and Management Office, acknowledged the tremendous response to INNOTECH's Call for Participants in his opening remarks during the launch of the program. SEA-SLP obtained nearly 4,000 individual applications. Dr. Macalde assured attendees that INNOTECH remains committed to expanding its efforts so that more educators can gain access to SEA-SLP and other learning opportunities. This statement was made in consideration of the high amount of applications for its 2023 run. 
SEA-SLP will run from November 13, 2023, to February 4, 2024, with Country Coaches from all over Southeast Asia guiding the participants throughout the program. The coaches guide and mentor the participants in applying different tools and strategies to lead schools during this time of recovery and transformation.  
SEA-SLP provides school heads with the tools and platform to reflect on significant experiences, claim essential lessons, and maximize opportunities to collaborate and build back better school systems. As a practitioner-oriented program, SEA-SLP leverages school heads' capacity to create, adapt, and scale up solutions.