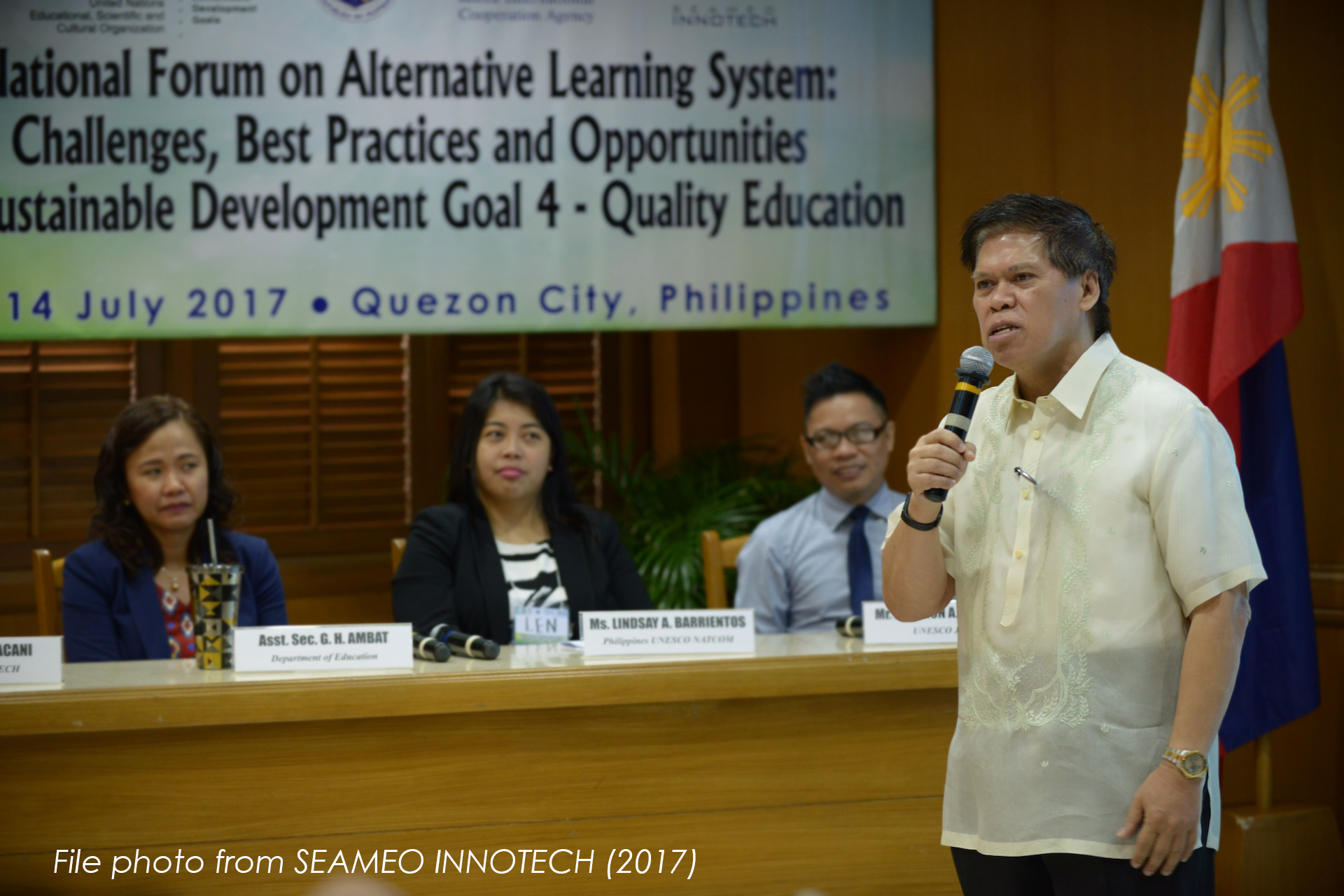 13 Jan

Philippine Alternative Learning System (ALS) Act signed into law

SEAMEO INNOTECH joins the Department of Education in celebrating the signing of the Philippine Alternative Learning System (ALS) Act as a milestone in moving forward the country's system of non-formal education. The ALS Act, or Republic Act No. 11510, provides support to ensure that more out-of-school children (in special cases), youth and adults (OSCYA) have access to quality basic education and will be ready for higher education or work.

The Department of Education's ALS Program is a parallel non-formal learning system, for learners that have dropped out of school or had no access to formal education. The program is based on a contextualized version of the K to 12 basic education curriculum designed specifically to meet the learning needs and situations of OSCYA. It provides options for OSCYA to continue their learning in a manner that that is suitable to their preference and circumstances and allows them to achieve their goals, improve their quality of life and become more active and productive members of society. Individuals from traditionally marginalized sectors of society, such as those geographically isolated or impoverished, as well as youth incarcerated in institutions, indigenous people, learners with disabilities and those living on the streets, will particularly benefit from opportunities to develop their literacy and life skills and increase their readiness for work and other sources of livelihood.

Aside from enhancing access to basic education, the ALS Act also focuses on strengthening the capacity of ALS Teachers through pre-service and in-service training to improve the quality and relevance of ALS basic education programs. Career opportunities for ALS Teachers will be enhanced as additional posts will be created and recalibrated to deliver various ALS programs depending on the context and needs of the area they serve. Moreover, the law articulates the provision of adequate learning resources and ALS Community Learning Centers that are safe and conducive for learning in all cities/municipalities nationwide. Finally, the ACT will strengthen the governance of DepEd ALS programs through the creation of a new Bureau of Alternative Education tasked with overseeing the implementation of the DepEd's ALS 2.0 reforms designed to improve the quality, relevance, efficiency and effectiveness of ALS programs across the country.

For decades, SEAMEO INNOTECH has provided technical assistance to DepEd in strengthening the ALS as a viable pathway for basic education among out-of-school children, youth and adult learners through technical guidance and inputs on ALS policy, systems development, review of the ALS curriculum, development of learning materials and capacity building for key ALS officials and implementers. In 2021, INNOTECH will continue to support and assist DepEd with their next steps in operationalizing the provisions of the law and the continued roll-out of the ALS 2.0 reform agenda.

To learn more about Republic Act No. 11510 "An Act Institutionalizing the Alternative Learning System In Basic Education For Out-Of-School Children In Special Cases And Adults And Appropriating Funds Therefor" check out the official signed document uploaded on the Official Gazette.