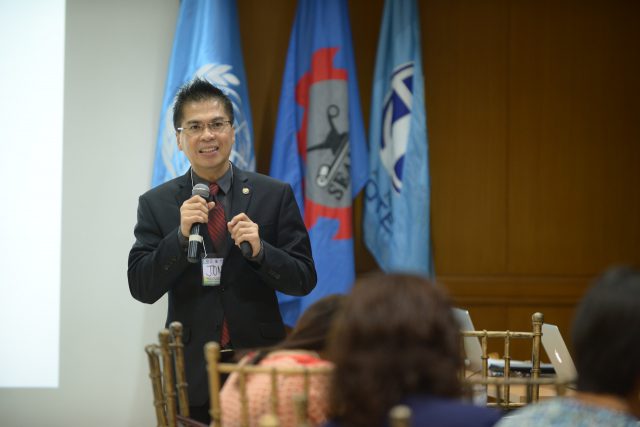 UNESCO Jakarta, DepEd, KOICA, and INNOTECH explore ALS opportunities in National Forum
UNESCO Jakarta and the Philippine Department of Education jointly organized a 3-day National Forum entitled, "National Forum on Alternative Learning System: Challenges, Best Practices and Opportunities for Sustainable Development Goal 4 – Quality Education," 12 to 14 July 2017. The forum was supported by the Korea International Cooperation Agency (KOICA) and SEAMEO INNOTECH.
Alternative Learning System (ALS) is a parallel learning system that provides an option to the existing formal instruction. It is an alternate or substitute when one does not have or cannot access formal education in schools. ALS includes both the non-formal and informal sources of knowledge and skills.
Participants of the forum, consisting of key officials from the Department of Education, Alternative Learning System Regional Supervisors and Focal Persons from the different regions, and representatives from selected government agencies and different international and national non-government organizations, had the chance to share their personal experiences in implementing ALS programs through the said forum. The challenges they currently face in terms of curriculum development, teaching and learning resources, teaching and learning delivery, education assessment, learning support services, and teacher's professional development were discussed during the first day of the forum. Current ALS initiatives and their impact were the main topics of the forum's second day. On the third day, the participants explored opportunities for ALS through a workshop facilitated by Ms. Edith Pimentel of INNOTECH's Learning and Training Development Unit.
The workshop mainly focused on the challenges discussed on the first day. These were explored and addressed during the workshop session. The participants highlighted the need to include topics such as agribusiness, disaster awareness and preparedness, sports, health, values, culture, and global citizenship into the ALS curriculum. They also stressed the need to orient key officials and train implementers on the fundamentals of ALS. The participants also emphasized that ALS projects and programs should be harmonized for them to be aligned with the formal education system.
The 3-day forum provided an opportunity for knowledge exchange and development of new innovative and responsive ALS initiatives. This would help the country in achieving the Sustainable Development Goal 4: Ensure Inclusive and Quality Education for All and Promote Lifelong Learning.