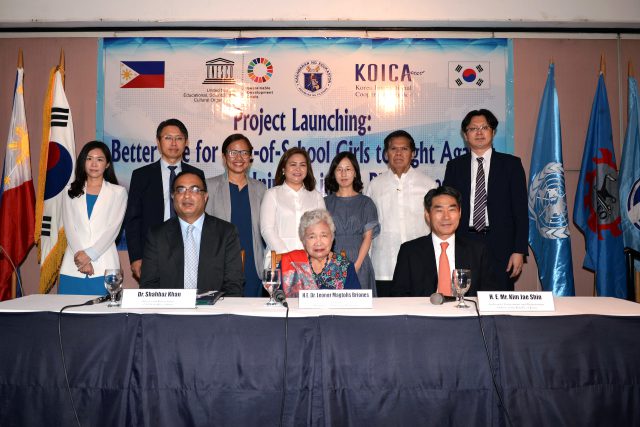 UNESCO, DepEd, KOICA launch project for out-of-school girls
"In the last SONA (State of the Nation Address) of the President, he mentioned that ALS (Alternative Learning Systems) should be intensified and expanded…this [project] is very responsive to the priorities of the government in education," said Philippine Department of Education (DepEd) Secretary Leonor Magtolis Briones during the project launch of "Better Life for Out-of-School Girls to Fight Against Poverty and Injustice in the Philippines," 14 July 2017 at SEAMEO INNOTECH.
The said project aims to help improve the quality of life of girls living in poverty through the establishment and operation of a Girls Education Center. It also intends to increase the passing rate among out-of-school girls who took the Accreditation and Equivalency (A&E) Test after completing the DepEd's ALS. This project will be piloted in Tacloban City and the municipality of Palo in the province of Leyte.
Korean Ambassador Kim Jae-Shin shared that, "Appropriate educational services for vulnerable classes, such as out-of-school girls, are essential for enhancing social inclusion and welfare. In this regards, this project is very meaningful because it provides these girls with alternative learning opportunities and helps them complete their basic education." The Government of the Republic of Korea made this project possible through the Korea International Cooperation Agency (KOICA).
Apart from the learners, the project also seeks to improve the quality of instructional knowledge and skills of ALS mobile teachers and develop and enhance the K to 12 ALS teaching and learning materials for out-of-school girls. In support of the project, SEAMEO INNOTECH Director, Dr. Ramon C. Bacani, shared the Center's ALS projects, including toolkits and resource materials that teachers can use in their ALS programs.
With the current reforms in the Philippine educational system, particularly the full implementation of the K to 12 curriculum, UNESCO Jakarta Office Director and Representative, Dr. Shahbaz Khan, expressed his appreciation and recognition to DepEd and KOICA for the continued cooperation and partnership. He added, "UNESCO is committed in supporting the Government of the Philippines, through the Department of Education, in its efforts towards the attainment of Sustainable Development Goal 4 on Inclusive and Quality Education. And most especially in its efforts to bring quality, accessible, relevant, and liberating basic education for all with focus for those children who are the lost, last, and least."
The project was launched during the "National Forum on Alternative Learning System: Challenges, Best Practices and Opportunities for Sustainable Development Goal 4 – Quality Education," co-organized by UNESCO Jakarta, KOICA, DepEd, and SEAMEO INNOTECH.
(Related article: UNESCO Jakarta, DepEd, KOICA, and INNOTECH explore ALS opportunities in National Forum)