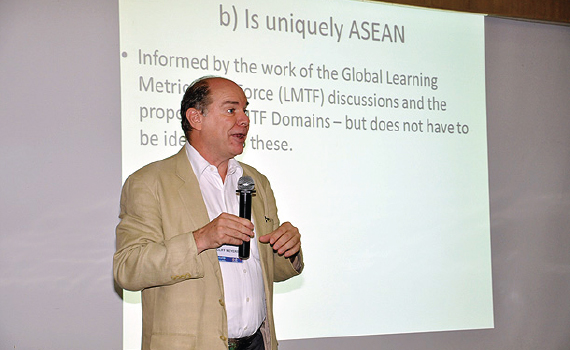 EXPERT SEMINAR ON SOUTHEAST ASIA PRIMARY LEARNING METRICS
SEAMEO INNOTECH and the UNICEF East Asia and Pacific Regional Office (EAPRO) are currently holding a three-day seminar to undertake the first phase of the Southeast Asia Primary Learning Metrics (SEA-PLM) Initiative. The cooperative project has gathered experts from the region to make recommendations on how to proceed with the development of the SEA-PLM.
The SEA-PLM is an initiative recommended at the 35th SEAMEO High Officials Meeting in November 2012 and endorsed by the 47th SEAMEO Council of Ministers Conference in March 2013. It aims to develop a set of tools and protocols for measuring learning outcomes of students in the primary level in Southeast Asia.
In a presentation during a meeting of the Network on Education Quality Monitoring in the Asia-Pacific Region (NEQMAP) in March 2013, Dr. Clifford Meyers, Regional Education Advisor of UNICEF EAPRO talked about the proposed SEA-PLM.
Dr. Meyers mentioned that among the current considerations in the development of a SEA-PLM are the following: (1) going beyond reading skills to include also writing, math and 'global citizenship'; (2) basing the measurement on age of learners rather than grade levels; (3) reflecting the unique values and culture of Southeast Asia; (4) introducing innovative approaches to assessment like the SOLO Taxonomy and the Rasch Model; (5) inclusion of social context and school factors in the methodology; and (6) embedding capacity building opportunities throughout the process.
The three-day regional seminar will specifically look at commonalities and unique elements of primary education curricula across the region, and compare these with the learning domains recommended by the Learning Metrics Task Force. Working closely with SEAMEO INNOTECH and the UNICEF EAPRO in this project are other members of the Learning Metrics Working Group from ESCAP Statistics Unit, SEAMEO Secretariat, and UNESCO (EPR Unit, UIS, and NEQMAP Secretariat).