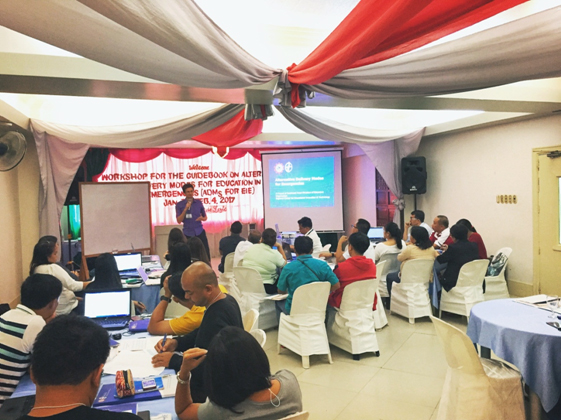 INNOTECH conducts workshop for education in emergencies
INNOTECH, through its Solutions Development Unit, conducted a workshop in Leyte to develop the Guidebook on Alternative Delivery Modes (ADMs) for Education in Emergencies (EiE), 30 January to 4 February 2017. The 6-day workshop aims to develop key sections of the guidebook.
(Related article: ADM for Education in Emergencies project field visits)
The workshop focused on developing key sections on ways of sustaining learning after a calamity, may it be man-made or natural, by implementing ADMs. The participants consist of representative staff from the Department of Education Central Office, Eastern Samar, Northern Samar, Leyte, Region 8 office, particularly those on ALS (Alternative Learning System), DRR (Disaster Risk Reduction), SPED (Special Education), and CLMD (Curriculum and Learning Management Division), and UNICEF, the project's partner organization. The participants mainly represent sectors which utilize or implement ADMs such as IMPACT (Instructional Management by Parents, Community and Teachers), MISOSA (Modified In-School Off-School Approach), and OHS (Open High School).
Know more about the said project through its brochure.