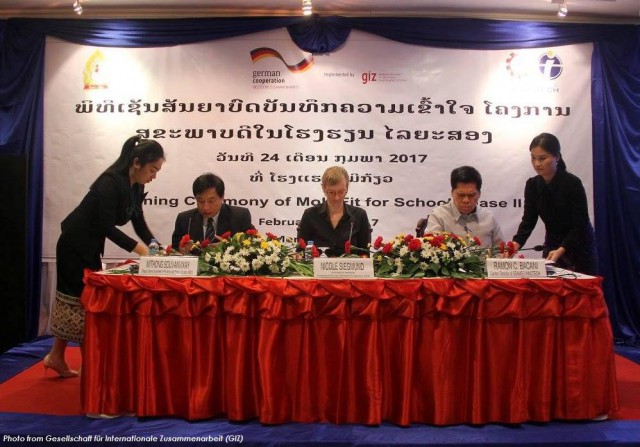 Lao PDR, SEAMEO INNOTECH, and GIZ sign MOU for Fit for School
SEAMEO INNOTECH and Deutsche Gesellschaft für Internationale Zusammenarbeit (GIZ) sealed its partnership with the Ministry of Education of Lao PDR, 24 February 2017 in Vientiane, for the second phase of the Fit for School program in the country.
The Memorandum of Understanding (MOU) was signed by Dr. Mithong Souvanvixay, Director General of the Department of Pre-School and Primary Education (DPPE) of the Ministry of Education and Sports, Ms. Nicole Siegmund, Principal Advisor of the Regional Fit for School Program of GIZ, and Dr. Ramon C. Bacani, Director of SEAMEO INNOTECH.
The Regional Fit for School Program has been implemented in Lao PDR since 2011, starting with 22 public primary schools in the Vientiane Capital. Now, this has increased to over 400 schools nationwide, benefitting over 42,000 children in the country. The program's model schools have been established in all provinces of Lao PDR and serve as good practice examples for other primary schools in their district and province.
With the MOU signed, Fit for School's implementation in the country will continue until November 2018. The second phase of the joint program now focuses on supporting the establishment of a water, sanitation, and hygiene (WASH) in schools.
The Fit for School program, jointly conducted by GIZ and SEAMEO INNOTECH, originated in the Philippines and is currently being implemented in Cambodia, Indonesia, and Lao PDR. The program aims to support the Ministries of Education in their efforts to develop schools as healthy and enabling learning environments for children.
Know more about the Fit for School Program at www.fitforschool.international.
(Related article: School hygiene programme expands nationwide, Vientiane Times)